06.27.18
Daines: No Balanced Budget, No Pay
Daines calls for budget reform before Joint Select Committee on Budget Appropriations
U.S. SENATE – Today, at a Joint Select Committee on Budget Appropriations open hearing, U.S. Senator Steve Daines called for reforms to the budget process including withholding pay from congressional members if they are unable to pass a balanced budget.
"It's simple, we don't pass a balanced budget, we don't get paid," said Daines. "I believe that by passing no budget, no pay members of Congress will clearly understand the consequences of continual deficit spending. There are at least 46 out of 50 states require a balanced budget. If 46 states can do it, so can we."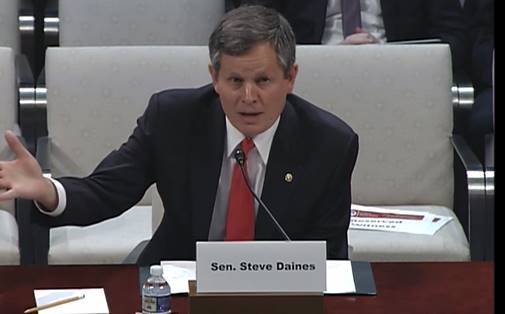 Watch video HERE.
Download video HERE.
The first bill Daines introduced in the 115th, 114th and 113th Congress is the Balanced Budget Accountability Act requiring that Congress pass a balanced budget – or members won't get paid.
###
---
---
Previous Article
Next Article