Slams Democrats for reckless spending that led to record high inflation, refusing to come to table for debt ceiling negotiations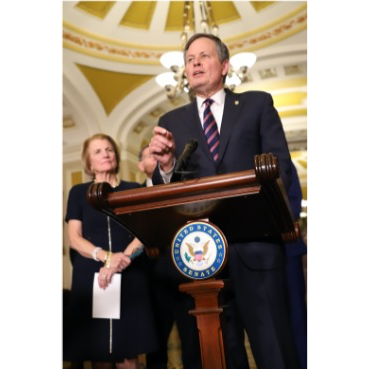 To watch Daines' remarks, click HERE.
U.S. SENATE – U.S. Senator Steve Daines, a member of the Senate Finance Committee, today delivered the following remarks at the weekly Republican Senate Leadership press conference blasting President Biden and Senate Democrats' irresponsible fiscal policies. Daines highlighted the inflationary effect of Democrats' reckless spending and slammed President Biden for refusing to negotiate with Speaker Kevin McCarthy on the debt limit.
"I feel a little bit like Paul Revere. It was about two years ago we were warning the American people that the Democrats, on a purely partisan basis, passed a massive $1.9 trillion spending extravaganza. It would have an inflationary effect. Remember Lawrence Summers, President Clinton's former Secretary of the Treasury, one of Obama's right hand people as it relates to economic policy. He was warning Democrats about the same thing. You can't do that without igniting inflationary fires.
"Well, I'm here to report today that that was part of igniting an inflationary fire that we are suffering greatly now as a country because of inflation and now higher interest rates. Never, ever forget every single Senate Democrat voted for that bill. Every single Senate Republican voted against. And that was the beginning, certainly, of the inflationary fires we saw lit across this economy.
"Now we're riding again here as Paul Revere warning our country that it is irresponsible, irresponsible, for President Biden to give Speaker McCarthy the cold shoulder. It's been 84 days since they've spoken. Speaker McCarthy has come to the table with some commonsense ideas to claw back wasteful spending, address the debt crisis. This should be, and must be a bipartisan discussion, but it takes two sides to negotiate. We must have President Biden come to the table in a serious way with Speaker McCarthy to solve this pending crisis.
"So, I come before you yet again as Paul Revere warning our country that if we don't have adults in the room, starting with President Biden, we face a significant financial crisis. I can tell you, families deserve more than Democrats reckless monetary policies. It's reckless for President Biden to be playing games with this looming debt ceiling crisis. Let's bring back fiscal sanity and fiscal responsibility."
###
Contact: Matt Lloyd, Rachel Dumke, Blake Kernen