WASHINGTON, D.C.— U.S. Senator Steve Daines appeared on Fox's The Story with Marth MacCallum to discuss the national security threat posed by Mexican drug cartels and the bill he helped introduce to designate them foreign terrorist organizations.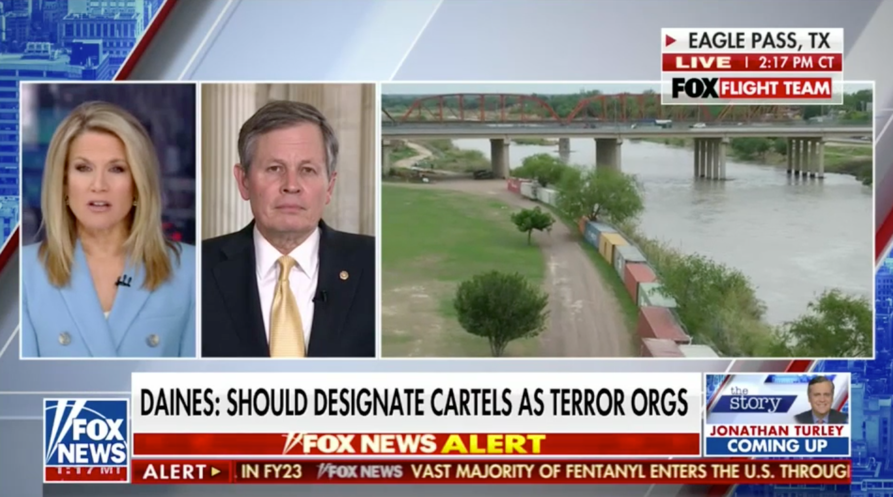 Daines on his bill to designate Mexican drug cartels as foreign terrorist organizations:
"Look, enough is enough. These Mexican cartels are invading our country and they're spreading fentanyl, methamphetamines across our communities. One hundred thousand Americans now are dying every year because of this. That's equivalent to having a major airliner crash every day in our country. Ninety percent of those drugs are coming from Mexican cartels. It's costing us about a trillion dollars a year. That is why we've got to do something about it.
"As I'm back home in Montana, Montana law enforcement tells me its Mexican cartels and fentanyl and methamphetamines that are causing the scourge. It's a direct cause of the violent crimes we're seeing in our communities. It's because of these cartels and these drugs, so designating them Foreign Terrorist Organizations is entirely appropriate because what it will do is it gives us more tools in the tool chest.
"It puts all the resources of intelligence and the federal government focused on these nine named cartels, where they're manufacturing these drugs. And second, it's options here, certainly for the use of U.S. military. Law enforcement has limited options to deal with this scourge. We've got to put every tool that we know in play to protect our country."
Daines on President Biden's lack of leadership:
"I mean, our President didn't have the guts to shoot down a Chinese spy balloon over our country. So clearly there's a lack of will in this White House to do the right thing to protect our country, but we're going to build a coalition here. We've already got a number of Republican senators. I hope we can find some Democrats to join us. At some point you've got to say enough is enough. That's what we're saying because it's not a fair fight right now for law enforcement. They're being overwhelmed because the Biden administration has allowed the cartels to control the southern border."
Daines on Vice President Kamala Harris ignoring the border crisis:
"There's a complete lack of leadership. She's running away from the border versus going to the border. She needs to get down there, spend time with the border patrol and see the reality. This is destroying so many communities in our country. We need the administration to act with us. Everybody should want to face this problem, regardless of what party you're in. And it seems like it can be addressed."
###
Contact: Matt Lloyd, Rachel Dumke, Blake Kernen