U.S. SENATE – U.S. Senator Steve Daines reintroduced a bill this week to direct President Biden to use confiscated assets from the Russian government to offset the costs of any aid that United States sends to support Ukraine. Daines' bill was the subject of questioning at a Senate Banking Committee hearing today where former President Biden's former Deputy National Security Advisor For International Economics Daleep Singh agreed with Senator Daines' approach.
"It's been over a year since Putin's unprovoked invasion of Ukraine and his brutal war of choice rages on. Putin is a thug — we need to use the assets we seized from him and his cronies to pay for the aid we send to Ukraine. That's why I'm calling on the Biden administration to make Putin pay for his own war," Daines said.
In the hearing this morning, Senator Daines questioned Singh, and he agreed that it is necessary to make Russia pay for the damage they're inflicting on Ukraine.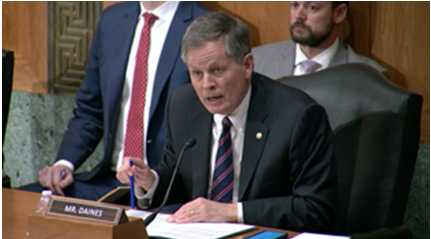 "I first want to say I agree with you. We need to look at all creative ways possible to make Russia pay its fair share for the reconstruction of Ukraine, which is probably going to be in the hundreds of billions of dollars. And if that means using the central bank reserves that we have mobilized as collateral for Ukraine to issue debt, I think that's something we ought to pursue," Mr. Singh said.
Senator Daines first introduced this bill in the 117th Congress after his visit to Ukraine. Daines was the first U.S. Senator to visit Ukraine following Russia's invasion.
Daines announced he would reintroduce this legislation on February 24, 2023 – the first anniversary of Russia's invasion of Ukraine.
Contact: Matt Lloyd, Rachel Dumke, Blake Kernen