BOZEMAN, MT—U.S. Senator Steve Daines appeared on Fox News' The Story with Martha MacCallum today from Montana to discuss the Chinese spy balloon that floated over Montana this week. Daines discussed the letter he sent to Defense Secretary Austin last night demanding a full security briefing from the administration in the situation. Full transcript of the appearance below.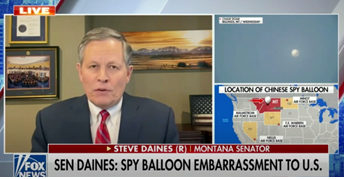 Daines on the Biden Administration's Weakness on the World Stage
"Well, first of all, this has been a tremendous embarrassment for the United States of America. It's one more example of the weakness of the Biden administration on the global stage. Their lack of response to shows a weakness is provoking, is provoking our adversaries and making America weaker. I'll tell you how we found out about it. We had Montanans calling our office, seeing the balloon in the sky, and in fact we had a lot of Montana say, is it okay if I take a shot at it?
"That's when we first heard about this. But let's remember something, why was this spy balloon over Montana? Because we are proud of the fact that we have the Malmstrom Air Force Base, the 341st Missile Wing. We have intercontinental ballistic missiles spread across north central Montana. These are the most powerful weapon known to mankind. These are weapons of mass destruction that we use to prevent a war. They are a terrific deterrent to make sure we are at peace. I remember Ronald Reagan talking about peace through strength. This is a strong part of our defense of this country.
"In fact, one of my favorite sayings in that Air Force Base given by one of the former commanders was, 'Scaring the hell out of America's enemies since 1962.'
"The problem with Joe Biden and this White House is they're now empowering; they're empowering our enemies since 2021. It's a dangerous moment that just makes our adversaries feel bolder about doing something irrational with America."
Daines on Shooting the Balloon Down
"No, they missed their moment. It first entered US. Airspace in Montana. Now I've heard from DoD, the Department of Defense, the White House that they didn't take a shot because they're afraid what might happen on the ground of potential civilian casualties. Listen, we got to get the Pentagon out here and see central Montana. They could have shot that balloon down, and the biggest risk might have been hitting a cow, a prairie dog or an antelope.
"That was their moment. It would have shown strength. Imagine if we had a U.S. Balloon, a spy balloon hovering over China. You think the Chinese just sit back and say, 'I'm sorry?' No. They would have taken action.
"This demonstrates weakness of America. We could have been much stronger to protect the people. It's embarrassing to us out here in Montana, the response of this White House. And you say you had Montana's, I don't think they could have hit it, but who were wanting to take a shot at it themselves. Yeah, well, we're not going to suggest they do it because obviously it's up there between 40-60,000 feet. I got to tell you, Montanans were alarmed. They were concerned. They want to know what they could do to help. God bless my fellow Montanans. They get it. The White House does not get it."
—
"Absolutely. Again, I wish they come out here and check out our state a bit. Its wide open spaces, lots of big open country. It's called 'Big Sky Country.' They would know exactly with the wind, currents, the trajectory, doing a little bit of basic geometry, where the landing site would have been. And I guarantee you we got plenty of space out here in Montana, have taken a safe shot and to safely have neutralized this threat."
Daines on How the White House Should Respond
"Well, he needs to address it directly, take it seriously. I think he believes, like a Taylor Swift concert moving across America, this is some kind of a tour. This is not the Chinese spy balloon tour. This is a threat to America. It's provocative for our enemies. He needs to address it head on and not just kind of brush it off and tell the American people what happened and what he plans to do to make sure this never happens again."
###
Contact: Matt Lloyd, Rachel Dumke, Blake Kernen