"Montana is a northern border state with a southern border crisis"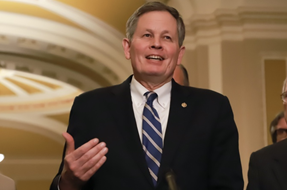 U.S. SENATE – U.S. Senator Steve Daines today joined his first Republican Senate Leadership press conference where he slammed President Biden and Senate Democrats for ignoring the crisis at the southern border and discussed how it is devastating Montana communities.
"Montana is a northern border state with a southern border crisis. Fentanyl is destroying our communities, creating lawlessness, and record levels of crime and record levels of fatal overdoses in Montana. This fentanyl is coming directly from the Mexican cartels. Sadly, the Biden administration is not doing anything to control the southern border," Daines said.
The Senator continued, "The reality is, in Montana our fentanyl deaths last year were up 1,100% compared to 2017. It is the leading cause of death for young people in our country. There was more fentanyl was seized by law enforcement in Montana in the first three quarters of 2022 than the prior four years combined. And lastly, when you take a look at who we saw come across the southern border in December, which was a 40% year-over-year increase, there were 17 names that popped on the terror watch list. The southern border is a humanitarian crisis, it's a crime crisis and it's a deadly crisis affecting states like Montana."
Background:
According to Montana Attorney General Austin Knudsen, anti-drug task forces in Montana seized twice as much fentanyl in the first three quarters of 2022 than they did in the last four years combined. Last year, Montana's state crime lab also saw that fatal overdoses linked to fentanyl were up more than 1,100% since 2017.
Last week, Custom and Border Protection's (CBP) released the latest border numbers revealing that U.S. authorities stopped 251,487 migrants along the Mexican border last month, up more than 40% from the same period a year earlier. Seventeen of those were on the FBI's terror watch list, bringing the total number of individuals on the terror watch list arrested at the southern border to 38 already for Fiscal Year 2023.
###
Contact: Matt Lloyd, Rachel Dumke, Blake Kernen