U.S. SENATE – Today at a Senate Finance Committee hearing, Senator Steve Daines emphasized the concerning mental health impacts that the COVID-19 pandemic has had on young Montanans. Specifically, Daines highlighted how pandemic policies like lockdowns have had a profound effect on our nation's children. Daines is thankful for the leadership of Governor Gianforte who worked to end lockdowns and support the health and well-being of our children by getting them back to school.
Daines has been selected as a co-chair of the Finance Committee's Workforce Working Group to develop bipartisan legislation to bolster the mental health workforce and improve behavioral health care for patients in Montana and nationwide.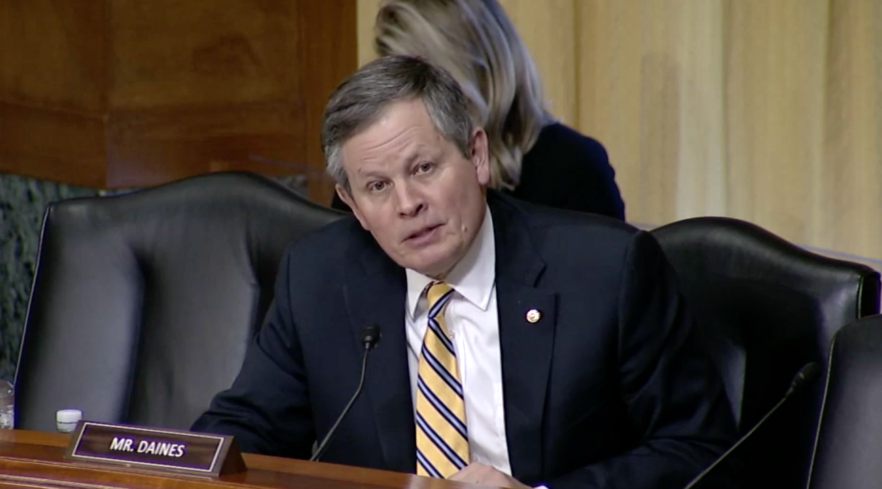 To watch Daines' remarks, click HERE.
"The COVID-19 pandemic has certainly challenged our children in so many ways, oftentimes profound. It's upended how they attend school, changed how they interact with friends, it's had a profound effect on mental health. From universal masking to stay at home orders—we're seeing how these draconian policies are affecting our children," Daines said.
During the hearing, Surgeon General Vivek Murthy agreed with Daines when asked if lockdowns and social isolation have contributed to the mental health challenges we're seeing today by emphasizing that isolation and loneliness have harmful effects on the mental and physical well-being of children and that school closures take a huge toll on students.
When Daines brought up concerns with the Biden administration's plan to mask toddlers, Surgeon General Murthy agreed that we need to get back to normal and that children need to play with their friends, see the people they love, and be in school to learn.
To watch and download the full exchange, click HERE.
Background:
Daines has been a leading advocate in the U.S. Senate for addressing mental health challenges.
In December, Daines sent a letter urging U.S. Department of Health and Human Services (HHS) Secretary Xavier Becerra to rescind the COVID-19 vaccine Mandate for Montana Head Start employees as well as the masking requirement for toddlers.
In November, Daines cosponsored a bipartisan bill, the "PEERS Act," to expand access to peer support services for Montanans with mental health and substance use conditions.
In October, Daines introduced a bipartisan bill to support suicide prevention and mental health care for Montana servicemembers.
In June, Daines introduced a bipartisan bill to enhance access to addiction and mental health services in communities across Montana.
In May, Daines led a hearing on improving mental health and addiction services in our communities, where he highlighted the impact of the COVID-19 pandemic in Montana.
###
Contact: Rachel Dumke, Katie Schoettler