U.S. SENATE — Today at a U.S. Senate Energy and Natural Resources Committee hearing, Senator Steve Daines questioned President Biden's nominees to lead the National Park Service (NPS) and serve as a commissioner on the Federal Energy Regulatory Commission (FERC).
Daines questioning Biden's NPS Nominee:
Daines pressed Charles (Chuck) Sams III on how if confirmed to lead the NPS, he would support Park employees and reduce overcrowding at Montana's national parks. Daines also highlighted the importance of implementing Daines' historic, bipartisan conservation legislation, the "Great American Outdoors Act" (GAOA), which would help support our national parks.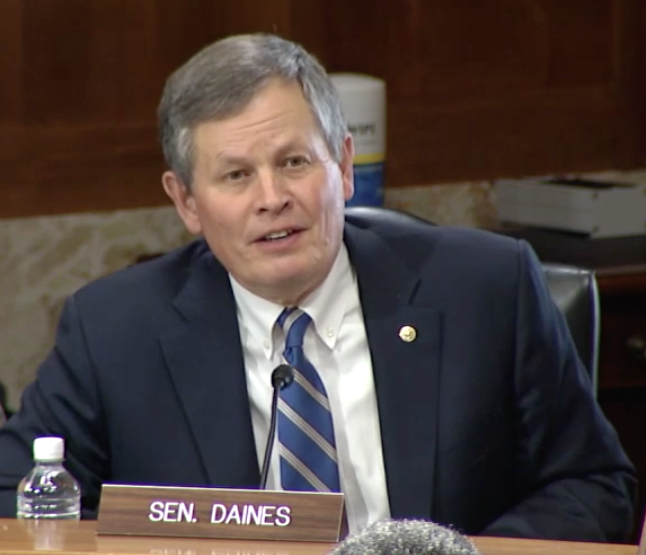 Watch and download the Senator's remarks on overcrowding HERE and his remarks on GAOA HERE.
"Increased visitation can bring many great benefits, such as more jobs and revenue for local communities, more people exploring and learning, and a greater appreciation for the Great Outdoors… But increased visitation can also have an impact on park employees, infrastructure and the landscape," Daines said.
Daines questioning Biden's FERC nominee:
As Montanans are facing rising energy prices because of the Biden administration's anti-energy agenda, including killing the Keystone XL pipeline, Daines pressed Chairman Willie Phillips, Jr. to commit to using this role to ensure Montanans have access to affordable, reliable energy, even if that means utilizing oil, gas and coal.
"… FERC's mission is to ensure consumers have safe, reliable and affordable energy," Daines said. "If confirmed you will be reviewing and approving natural gas pipelines, electric transmission, hydroelectric dams and more. In Montana, energy production creates high-paying jobs, supports communities and ensures that the lights and heat stay on during cold winter days. I was speaking with one of our co-ops just yesterday. They are very concerned with where the Administration is headed, that America will find itself where Europe is today with skyrocketing natural gas prices, skyrocketing coal prices and oil prices."
Watch and download the remarks HERE.
###

Contact: Katherine McKeogh, Katie Schoettler