U.S. SENATE — U.S. Senator Steve Daines today pressed President-elect Biden's Treasury Secretary Nominee Dr. Janet Yellen about the new administration's plans to raise taxes, urging no new taxes be raised.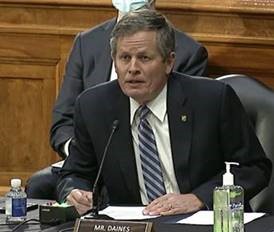 To watch the exchange, click HERE.
"I am concerned by President-elect Biden's plans to increase taxes, and think that raising taxes in general, but particularly in the middle of a pandemic, is harmful for growth," Daines said.
In the hearing, Daines highlighted the economic growth the nation was seeing before the pandemic hit with historically low unemployment rates.
Daines also urged Dr. Yellen to support his bipartisan bill, the "Retirement Savings Lost and Found Act" and her commitment to smoothly administer it if it gets signed into law. The bill would help Montanans recover any retirement funds they may have lost while moving jobs over the years.
Daines is scheduled to meet with Yellen one on one in the coming days where he will further emphasize the importance of protecting the Montana way of life and Montana jobs, small businesses, workers and families.