U.S. SENATE – U.S. Senator Steve Daines today voted for a COVID-19 relief package to help support Montana small businesses, workers, families, schools, Tribes, and farmers and ranchers impacted by the pandemic. The relief package also includes nearly $20 billion for COVID-19 vaccine distribution.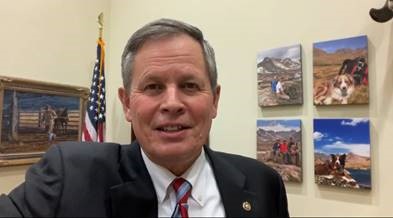 To download the full statement, click HERE.
"This bipartisan targeted COVID-19 relief package is going to help Montana small businesses, workers, families, healthcare heroes, schools, Tribes and farmers and ranchers. It also provides billions of dollars for vaccine manufacturing and distribution which is critical to ending this pandemic once and for all. This has been a tough year for all Montanans, but there is light at the end of the tunnel. We will get through this," Daines said.
For a topline list of provisions the Senator fought to have included, click HERE.
Supports Montana Small Businesses and Jobs:
Provides more than $300 billion for small businesses, including $284 billion to replenish the Paycheck Protection Program (PPP) to help keep Montana small businesses open and workers on the payroll. The PPP has helped nearly 24,000 small businesses in Montana, providing close to $1.8 billion.

Expands PPP eligibility to include certain 501(c)(6) organizations. This includes Montana local organizations, including Chambers of Commerce, Destination Marketing Organizations, and Outdoor Recreation Organizations with 300 or fewer employees. This is something Daines specifically worked to include.

Provides $20 billion for Economic Injury Disaster Loan (EIDL) advance grants.
Includes Daines' EIDL Forgiveness Act, which eliminates the requirement that PPP borrowers deduct the amount of their EIDL advance from their PPP forgiveness amount.
Includes the "Save our Stages Act," which provides $15 billion for live venues and independent movie theaters. This was a priority for businesses across Montana, and Daines worked to get this included.
Extends the SBA Debt Relief program, providing three months of additional principal and interest payments for all SBA borrowers, starting in February 2021.
Includes Daines' bipartisan bill, the "Craft Beverage Modernization and Tax Reform Act," which provides tax certainty for Montana breweries and distilleries, helping protect and create jobs across Montana.
Five year extension of New Markets Tax Credit, a program which has mobilized private-sector resources to help deliver over $400 million in total project financing across Montana like the new Young Women's Christian Association (YWCA) facility being constructed in Missoula that Daines visited in August.
Enhances and extends the Employee Retention Tax Credit through June 30, 2021, which will help employers keep their employees on the job. Daines pushed for this targeted, worker-focused credit to be expanded during a June 2020 Finance Committee hearing.
Supports Montana Families and Workers:
Provides up to a $600 direct check per Montanan and child dependent.
Provides $300 per week of supplemental unemployment insurance for Montanans who lost their jobs at no fault of their own. This is in addition to what an individual receives from the state's unemployment insurance.

$300 supplement lasts for 10 weeks (December 26, 2020 – March 14, 2021).
Extends unemployment program for self-employed and gig workers to March 14, 2021 and increases the maximum number of weeks an individual may claim from 39 to 50.
Extends relief for government and non-profit employees through March 14, 2021.
Extends the authorization for enhanced unemployment benefits for those covered under the Railroad Unemployment Insurance Act.
Prioritizes COVID-19 Vaccines, Therapeutic Drugs & Testing:
Provides $8.75 billion to the Centers for Disease Control and Prevention (CDC) to promote, distribute, administer, monitor, and track COVID-19 vaccines to ensure broad-based distribution, access, and coverage for Montanans and all Americans. In November, Daines called on the CDC to ensure Montanans across the state, including those in rural communities, get access to a safe and effective COVID-19 vaccine as quickly as possible.
Provides $19.695 billion to continue supporting critical efforts to ensure Americans receive vaccines and therapeutics. Senator Daines has been a leader in the Senate to advocate for vaccine funding. Back in March, Senator Daines secured funding that jumpstarted Operation Warp Speed, the unprecedented effort to develop and distribute COVID-19 vaccines in record time.
$22.4 billion is provided to states, localities, territories, and tribes for testing, contact tracing, and mitigation to monitor and combat the coronavirus. It will help also ensure Montanans can continue to get tests, and that test results are made available as quickly as possible.
Provides the National Institutes of Health with $1.15 billion for research into the long-term effects of COVID-19 and $100 million to support the Rapid Acceleration of Diagnostics program to speed the development and commercialization of COVID-19 diagnostic tests.
Supports Montana's Hospitals and Providers, Bolsters Rural Health Care Delivery, Expands Telehealth:
Includes $3 billion for the Provider Relief Fund (PRF) to support Montana's hospitals and health care providers.

Language is included directing 85% of unobligated balances or funds recovered to be for future distributions. Language is also included clarifying the definition of lost revenue for hospitals and allows hospital systems to transfer COVID funds among hospitals in their system.

Establishes a new, voluntary Rural Emergency Hospital designation offering financial support to struggling rural hospitals that can no longer support inpatient services and want to "right-size" their health care infrastructure to better align with community needs.
Invests $3 billion to increase payments to all physicians and professionals for all services by 3.75 percent throughout 2021.
Provides $3.25 billion to secure PPE and other supplies to support availability during the pandemic.
Eliminates Medicare restrictions to allow all beneficiaries to receive mental health services through telehealth on a permanent basis
Promotes use of real-time benefit tools in Medicare that enable physicians to work with beneficiaries to find the lowest cost prescription drug at the time of prescribing.
Extends the moratorium on the Medicare sequester set to expire on December 31, 2020, increasing payment to all providers by 2 percent for first three months of 2021.
Addresses Substance Abuse and Mental Health:
Provides $4.25 billion for substance abuse and mental health treatment and prevention. This includes robust investments in the Mental Health and Substance Abuse Treatment and Prevention block grants. The bill also invests in suicide prevention, Certified Community Behavioral Health Clinics, and targets funding to individual behavioral health providers.
Supports Child Care Providers:
$10 billion to provide additional assistance Montana's working families, and support child care providers experiencing increased operating expenses and decreased revenue related to COVID-19. Daines has been working on providing relief to childcare providers during the pandemic.
Provides Funding for Schools, Teachers & Students Navigating COVID-19:
$82 billion to support Montana students, teachers, schools, and families with additional education needs related to COVID-19.
Supports the United States Postal Service
Converts unused $10 billion loan for USPS into a grant.
Supports Montana Farmers and Ranchers
Provides $13 billion of additional funds for agriculture and to assist farmers and ranchers negatively impacted by low commodity prices and supply chain challenges due to the pandemic.
Supports Montana Tribal Communities
Extends the use for the Coronavirus Relief Fund through December of 2021 to ensure our tribal members have the time necessary to get access to the critical resources needed to keep their communities safe.
Provides $210 million to Indian Health Services to prevent or slow the spread of COVID-19 in Indian Country through Indian Health Service, Tribal, and Urban Indian health programs.
Provides $800 million for rental assistance for tribal members.