U.S. SENATE — U.S. Senator Steve Daines today voted for several Montana priorities in the final defense bill known as the "National Defense Authorization Act" or the "NDAA," including a 3% pay raise for troops, support for Malmstrom Air Force Base and Montana's Guard Units and help for veterans exposed to Agent Orange.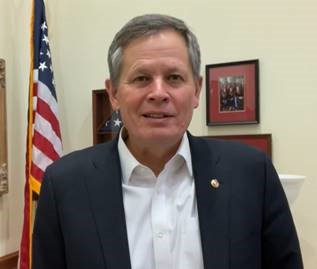 For a statement from Daines, click HERE.
For TV Elements, click HERE.
"This bipartisan defense bill ensures America maintains the best military in the world, strengthens Montana's defense priorities and gives our troops a much needed pay raise," Daines said. "I will always work to ensure our troops and veterans who served our country have the support they need."
The NDAA provides a 3% pay raise, increases hazardous duty pay, provides reserve relief for troops, strengthens our national security by modernizing Malmstrom and the nuclear arsenal and helps combat infiltration from China.
Daines was also supportive of several critical amendments, including the Agent Orange amendment that adds more medical conditions covered by the VA for Vietnam veterans impacted by Agent Orange. He also supported an amendment that sets a minimum C-130 inventory of 287 aircraft, preserving the Montana Air National Guard's fleet.
Montana Defense Wins in the NDAA:
Addresses limitations regarding Military Construction (MILCON) and Ground Based Strategic Deterrent (GBSD) Launch Facilities. It will also allow the Secretary of Defense to use certain funds for MILCON projects related to modernizing missile silos and Missile Alert Facilities.
Gives a 3% pay increase for members of the military.
Provides reserve retirement relief for service members affected by the COVID-19 stop movement order. This follows Daines' direct request.
Establishes a semiconductor incentive grant, to construct, expand or modernize facilities related to the production of semiconductors in the U.S. These grants would focus on producing microelectronics for use by the Department of Defense (DOD), intelligence community and other national security applications.
$1.5 billion in full funding for GBSD which will strengthen our missile defense systems at Malmstrom.
$194 million for Huey replacement, with Malmstrom the first ICBM base to receive upgraded versions.
Includes an amendment supported by Daines that adds three conditions (Parkinsonism, Bladder cancer, Hypothyroidism) to the list of Agent Orange related conditions.
Daines amendment to allow free entry into parks for gold star families.
Adopted a provision to set a minimum C-130 inventory of 287 aircraft following Daines' request. The original Senate bill set the number at 230, putting the Montana Air National Guard at risk.
Other NDAA wins:
Prioritizing Strategic Competition with China and Russia

Protects the defense industrial base and supply chain, as well as intellectual property and technology, from disruption, infiltration, or theft by the Government of China and other adversaries

COVID Response

Authorizes $44 million for vaccine and biotechnology research supported by DOD.

Supporting U.S. Heroes and Their Families
Promotes professional development opportunities for military spouses by authorizing $4 million to assist with the development of interstate compacts on licensed occupations for military spouses.