U.S. SENATE – U.S. Senator Steve Daines today introduced a Senate resolution condemning the promises made by Democratic leaders to increase the number of Supreme Court Justices on the bench, known as court packing. Following introduction of the resolution, Daines spoke on the Senate floor about the importance of passing his resolution highlighting how court packing is an attack on the Montana way of life and how it undermines the separation of powers.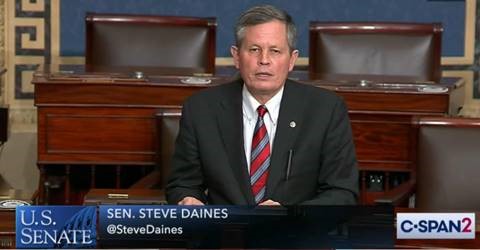 Click HERE for a clip of the statement below, click HERE for full speech.
"Packing the Supreme Court by moving from the current 9 justices to 11 or 13 would essentially eliminate the Supreme Court from being a check and balance on Congress and the executive branch, paving the way for a radical, far left agenda put forth by Chuck Schumer and the Democrats if they get the majority. Packing the Supreme Court is a direct attack on our Montana way of life. Packing the Supreme Court with activist, liberal judges will help the far left radicals strip away our Second Amendment rights, destroy good paying energy and natural resources jobs, and cripple the Montana and American economy by blocking forest management and energy projects," Daines said.
Senate Democrats blocked passage of Daines' resolution to condemn court packing and keep the court at nine seats.
To read Senator Daines' resolution, click HERE.
Background:
There have been nine Supreme Court Justices on the bench for 151 years, since passage of the Judiciary Act of 1869.
On Wednesday, Daines spoke at a press conference condemning the Democrats plans to pack the Supreme Court.