U.S. SENATE – Today in a U.S. Senate Commerce Committee hearing, Senator Steve Daines introduced Paul Tuss, a Havre resident and Executive Director of Bear Paw Development Corporation as a witness to speak on the importance of Amtrak services along the Hi-Line.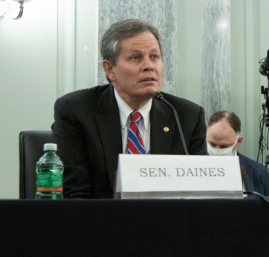 To watch Daines' introduction, click HERE.
"In Montana, the Empire Builder is essential to the local economy and provides folks along the Hi-Line their only access to the national transportation network. Like Paul, I am deeply concerned about the impact Amtrak's reductions in staff and service will have across the network and I led a bipartisan effort opposing the reductions in June, which included a Democrat member of this committee and had strong support from both labor unions and passenger associations," Daines said. "I also filed an amendment to prohibit the reductions. As I noted in a letter to Senate leadership last month, daily service on the Empire Builder is essential to providing Montanans access to world class healthcare and is critical to our local economy by bringing thousands each year to visit our communities, pristine wilderness, and national parks."
Tuss shared his experiences with the Empire Builder and how critical daily service is for towns like Havre which depend on passenger rail access for their local economy and jobs, and direct, reliable transportation to world class healthcare.
During the introduction, Daines touched on how critical Amtrak services are for Montanans living on the Hi-Line, and the need to guarantee the return of all staff as well as returning full daily service.
Background:
On October 19th, Amtrak officially moved forward with cutting Empire Builder services to three days a week.
On September 24th, 2020, Daines introduced an Amendment that would stop Amtrak from instituting any service cuts, furloughs, or layoffs for the duration of the Continuing Resolution.
On September 21st, 2020, Daines urged Senate Leadership to stop the reduction of services and staff for Amtrak along the Hi-Line, stressing the need to protect jobs and the local economy that Amtrak supports in Montana.
On June 24th, 2020, Daines sent a bipartisan letter to the President of Amtrak opposing their plans to terminate one out of every five employees, putting thousands out of work, and reducing the hours of operation of the National network of long distance trains.