U.S. SENATE – U.S. Senator Steve Daines today gave a speech on the Senate floor in support of Montana's law enforcement, thanking the men and women who wear the badge for their service and dedication to keeping Montanans safe. Daines' speech follows his co-sponsorship of a Senate resolution expressing support for the brave men and women of law enforcement and condemns the perpetrators, instigators, and celebrators of targeted violence against law enforcement.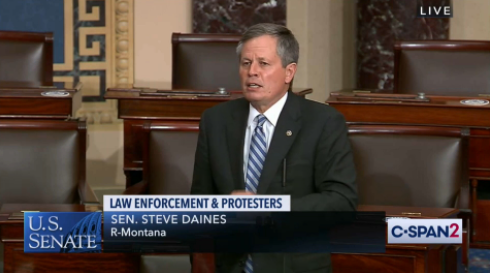 For Daines' full speech click, HERE.
Excerpts from Daines' remarks:
"These men and women are the best of the best… Montana heroes… literally putting their lives on the line every day to protect our families… our moms and dads… our kids.
"They don't do it for the pay or the accolades, they do it to serve their communities. To keep us safe.
"Anti-police rhetoric is beyond dangerous. And those who support it should be ashamed of themselves. They should publicly be condemned by every Senator, every Representative, every Governor across this country.
"This talk is crazy. It's crazy in Montana and it's crazy across the country. And the Senators before you today will not accept it.
"We shouldn't be defunding the police, we should be defending them."