U.S. SENATE – U.S. Senator Steve Daines today spoke on the Senate floor urging his colleagues to advance his bipartisan bill to protect Montana veterans and their families from scam artists known as pension poachers. Unfortunately, it was Senate Democrat opposition that blocked Daines' bill from moving forward.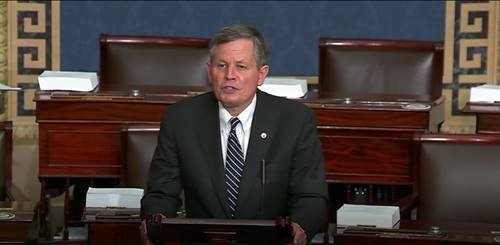 To download Daines full remarks, click HERE.
On the floor, Daines said: "…right now, we can take an important step to do everything in our power to ensure our veterans and their families keep their benefits… not lose them to scammers… I will always stand by Montana's veterans, and I will continue fighting this fight until we get this done."
When blocking the Daines amendment, Senate Armed Services Committee Ranking Member Jack Reed (D-RI) said there was "opposition on my (Democrat) side."
Last August, Daines introduced his bipartisan pension poaching bill after he was approached by the widow of Montana veteran, Patricia Pardue, who saw nearly all of her pension benefits stripped by a scam artist.
Watch a video of Patricia explaining what her experience was, HERE.
Daines will continue working to advance his bill to protect Montana's veterans. Daines is committed to ensuring cases like Patricia's never happens again and he will continue fighting to raise awareness on this important issue impacting so many vulnerable veterans across the country and their family members.
###