U.S. SENATE – U.S. Senator Steve Daines today secured a successful vote to advance his bipartisan bill, the "Great American Outdoors Act," in the U.S. Senate. This is the first procedural vote needed to get the legislation passed out of the Senate. The bipartisan bill provides full, mandatory funding of the Land and Water Conservation Fund and addresses the maintenance backlog facing the nation's public lands and national parks.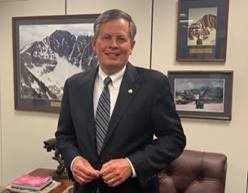 For a video statement from the Senator click, HERE.
Ahead of the vote, Daines also spoke on the Senate floor to highlight this historic moment for conservation.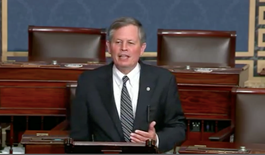 To download Daines' full remarks, click HERE.
"As a fifth-generation Montanan, I know just how important our public lands are to protecting and preserving our Montana way of life… Today, we now have the opportunity to move forward on the bipartisan Great American Outdoors Act, a conservation bill that will provide full and permanent funding for the Land and Water Conservation Fund and finally tackle the massive maintenance backlog plaguing our public lands and national parks… It is an honor to serve the people of Montana in the United States Senate, and bring this vote, a vote decades in the making, before the U.S. Senate today…" Daines said.
Daines introduced the bipartisan bill after getting commitment from Leader McConnell to bring the bill up for a vote in the U.S. Senate, and after President Trump gave Daines commitment he would sign it into law.
Last week, Daines spoke with President Trump to give an update on the bill ahead of today's vote.
The next vote on the bill is expected to be Wednesday of this week.
Statements of Support:
"Montana Trout Unlimited thanks Senator Daines for his commitment to supporting Montana's public lands heritage and his tireless efforts to secure permeant, dedicated funding for the Land and Water Conservation Fund through the Great American Outdoors Act. Today's vote gets us one step closer to closing the deal for our state's coldwater fisheries and public access. As the Senate takes up the legislation this week, we are also excited to see progress on addressing decades of maintenance backlogs on our public lands that benefit our wild and native fish and their habitat." – David Brooks, Executive Director, Montana Trout Unlimited
"I am very proud of the work Senator Daines has done on behalf of Montana sportsmen and outdoor recreation… MOGA has supported this bi partisan effort from the beginning. Thank you Senator Daines for your leadership on this important effort and thank you for your insistence that it be bipartisan." – Mac Minard, Executive Director, Montana Outfitters and Guides Association
"An important step was taken in the US Senate today down the road toward a generational conservation achievement: Full permanent funding of the Land and Water Conservation Fund. Passage of the Great American Outdoors Act means LWCF funding and tremendous rural community, national park, and outdoor recreation economic benefits for Montana and the nation. More legislative steps to go. Let's finish the journey." Glenn Marx, Montana Association of Land Trusts
"We recognize Senator Daines for the leadership role he's taken from the beginning in support of LWCF. This important conservation program allowed the Rocky Mountain Elk Foundation to complete more than 80 land protection and access projects that conserved more than 152,000 acres of habitat for elk and other wildlife. RMEF strongly urges members of the Senate and House to rally alongside Senator Daines, pass this measure and forward it to President Trump's desk so it can be signed into law."- Kyle Weaver, President and CEO, Rocky Mountain Elk Foundation
Background:
For more information on the actions Senator Daines has taken defending our public lands and Montana way of life click, HERE.