U.S. SENATE – U.S. Senator Steve Daines today advanced a slate of key Montana priorities out of the U.S. Senate Energy and Natural Resources Committee including bipartisan bills that permanently and fully fund the Land and Water Conservation Fund (LWCF) and help fix the maintenance backlog issue facing national parks.
"What a great day in the United States Senate and what a great day in Montana. With today's vote we are one step closer to fully funding the Land Water Conservation Fund and addressing the growing maintenance backlog in our national parks…" Daines said.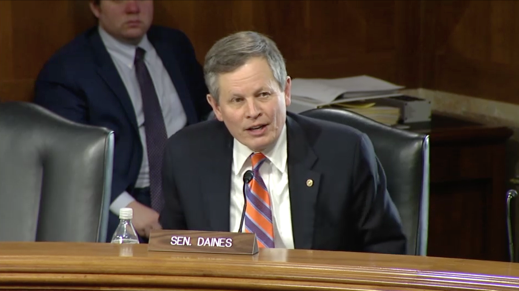 Click HERE to download full video statement
Daines also voted to advance three important nominations to fill leadership positions at agencies impacting Montana and the West: Dan Brouillette to be Secretary of the Department of Energy, Kate MacGregor to be Deputy Secretary of the Department of the Interior, and James Danly to be a member of the Federal Energy Regulatory Commission.
Daines issued the following statement on his vote for the nominees: "Dan Brouillette, Kate MacGregor and James Danly are great picks by the Trump administration that value our Montana way of life and understand the importance of creating good paying Montana jobs. As Chair of the Senate Western Caucus, I'm glad to have helped advance these important nominations and I'm confident they will help promote President Trump's pro-Montana, pro-jobs, and pro-energy agenda. I urge swift Senate floor action on these nominees."
Summary of Bills:
Daines' Bipartisan LWCF Permanent Funding Act, S. 1081:
Daines' bill requires full, mandatory funding of LWCF.
Daines has consistently and unabashedly fought for full funding of LWCF.
Earlier this year, Daines helped get LWCF permanently authorized.
Daines' efforts, actions and dedication to LWCF has received significant support from public lands advocates, groups and sportsmen.

Click HERE for statements of support.
Daines' Bipartisan Restore Our Parks Act, S. 500:
Daines' bill helps fix the maintenance backlog facing national parks across the country.
With increased visitation of national parks across the country, park infrastructure has inevitably experienced wear and tear and has led to a significant maintenance backlog.
Today, there is an $11.9 billion maintenance backlog facing national parks across the nation, including over $716 million in Glacier and Yellowstone National Parks.
###