U.S. SENATE – U.S. Senator Steve Daines today in a U.S. Senate Finance Committee Hearing emphasized the need to combat abuse and neglect in Montana's nursing homes, including in a facility in Lewistown.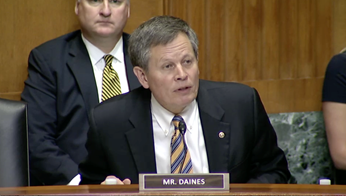 Click HERE to download
"When it comes to family members making the decision to find a nursing home for a loved one," Daines said. "The last thing they should be worried about is whether their mom or dad, or grandfather or grandmother, will be safe from abuse in their new home… it's time to push past the status quo."
Daines, while recognizing there are high quality nursing homes in the state, discussed reports of abuse and neglect at a nursing home in Lewistown. He then asked for, and received, commitment from the U.S. Department of Health and Human Services Office of Inspector General to work with the Senator to protect Montana seniors from nursing home abuse. Click HERE to download.
Background:
On June 28th, 2019, Daines sent a letter to Centers for Medicare and Medicaid Services (CMS) Administrator Seema Verma urging proper oversight of the nursing home industry and an increased federal commitment to transparency.
In early May, Daines pressed CMS on its timeline for completing its review of nursing home regulations and guidelines.
On March 6th, 2019, Daines called on CMS to ensure that horrific cases of nursing home abuse in Montana, such as a recent case in Lewistown, will never happen again.
###