U.S. SENATE — U.S. Senator Steve Daines today pressed Environmental Protection Agency (EPA) Administrator Andrew Wheeler at a U.S. Senate Hearing on the need to finalize restoration and cleanup at Montana's Butte-Silver Bow and Anaconda Smelter Co. Superfund Sites.
Daines specifically stressed the need for a natural stream in Butte and for a firm commitment from Wheeler that the Anaconda site will be secure into perpetuity.
Download video HERE
At the hearing, Daines also pressed Wheeler on the status of EPA's current risk evaluation of asbestos.
"My communities in Montana are eager for progress… we've known for a while the dangers of asbestos and we want to protect others from the tragedies we've seen in Montana," Daines said.
Daines concluded that while waiting for EPA to finish its evaluation, he is working on legislation to ban all new uses of asbestos.
"I want to see an outcome that protects the people of this country and Montana and my goal is to help prevent future tragedies like we've seen in places like Libby," Daines said.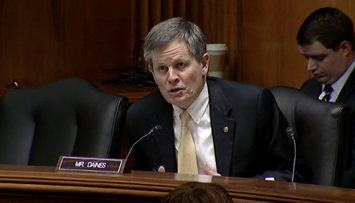 Download video HERE
Background:
Daines has been very active in working to prioritize and finalize cleanup at Butte and Anaconda Superfund Sites.
In September 2018, Daines brought Wheeler to Butte and Anaconda to discuss finalizing cleanup efforts with local, state, federal and community leaders.
Daines has also been a champion in working to bring attention to, prioritize and secure funding for asbestos cleanup in Libby.
###