U.S. SENATE – U.S. Senator Steve Daines recognized Hannah Nieskens of Jefferson County for her years of service to Montana veterans and her great impact on Montana's education system.
Yesterday, Daines spoke about Nieskens on the floor of the U.S. Senate.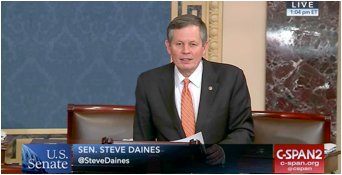 Watch HERE
Download HERE
Daines' speech in the Congressional Record is available here.
Mr. DAINES, Mr. President, this week I have the honor of recognizing Hannah Nieskens of Jefferson County for her tremendous service to Montana veterans and her great impact on Montana's education system.
Hannah grew up spending time in Montana with her family, and then was awarded the presidential scholarship to attend Montana State University in Bozeman. After graduating with Honors from MSU, Hannah began her career in education in the Billings School District. During her four years in Billings, she met her now-husband Kelly, who served in the Army, and they fell in love. Hannah and Kelly now have three children, two daughters, Charity and Hope. And their adopted son, Joshua. Joshua is currently serving overseas in the Air Force.
Hannah has a distinguished career in education. She has served her community as a teacher in Billings, the Dean of Wolf Point High School, the Principal at Northside Elementary School, and now is the 6-12 Principal in Whitehall. Last year, Hannah was named Montana Principal of the Year. Now, Hannah's one of three finalists for the 2019 National Principal of the Year.
In addition to Hannah's devoted career to education, Hannah has a passion for serving Montana veterans. After Kelly was severely wounded while serving in Iraq, Hannah began volunteering to help other veterans in the community navigate the VA. Hannah even earned a law degree, to be better prepared to assist Kelly and others veterans struggling with the VA. Hannah currently serves as the Montana Dole Fellow, where she advocates on behalf of Montana's military families.
Hannah has great pride in calling Montana home – and we are lucky to have her. She has made a lasting impact on her community and the entire state, both through her service to our veterans and by shaping our future generations in the school system. I congratulate Hannah on all of her success, and look forward to seeing all that she will accomplish for Montana in the future.
###