U.S. SENATE — U.S. Senator Steve Daines recognized Jason Gleason of Great Falls for his years of service to our nation's veterans as a nurse practitioner, as well as his service to our country as a veteran himself.
Earlier this week, Daines spoke about Gleason on the floor of the U.S. Senate.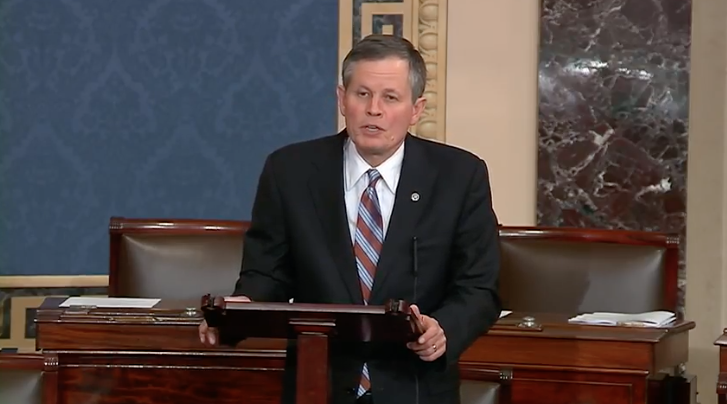 Watch HERE
Download HERE
Daines' speech in the Congressional Record is available here.
Mr. DAINES. Mr. President, on the heels of Veteran's Day and in honor of President Trump's designating November 2018 as National Veterans and Military Families Month, I have the distinct pleasure of recognizing Jason Gleason of Great Falls, MT, for his dedication to serving veterans in North Central Montana.
Jason serves as a nurse practitioner in the Great Falls VA Community Based Outpatient Clinic and has become one of the most sought-after experts in veterans' healthcare. A veteran himself, Jason spent 20 years in the Montana Air National Guard, retiring as lieutenant colonel.
During his time in the Guard, he served as officer in charge of health promotion, medical readiness, staff development, and as assistant chief nurse, where he gained a great deal of knowledge and experience caring for fellow service members.
Jason retired from the Air National Guard in 2015, and since then he has dedicated himself to providing exceptional healthcare to Montana veterans. He has built and maintained a patient panel that is at 110 percent capacity and has 1,000 patients. When another provider recently retired, he stepped up and took over the patient panel and provided care to another 556 veterans.
Jason has worked to improve the overall Montana VA system. He has recruited and mentored other nurse practitioners, which helped fill critical positions in the VA system. Jason also participated in a VA residency program that trains providers to better serve our women veterans.
In 2011, he experienced a deep personal tragedy when his wife of 16 years, Heather, passed away from a stroke, leaving him a widower with three children. After his wife's death, he dedicated himself to becoming an expert on strokes.
He regularly speaks to healthcare providers across the country about stroke prevention and treatment and received the Montana State Department of Health and Human Services Stroke Hero of the Year Award.
Montana is incredibly lucky to have a healthcare professional like Jason Gleason serving our veterans. He is truly an excellent example of someone who puts service before self. He understands that his service to our country did not end with his service in the military.
I want to personally congratulate and thank Jason for his excellent work.
Thank you, Mr. President.
I yield the floor.
###