U.S. SENATE —U.S. Senator Steve Daines today voted on landmark legislation to help combat the devastating meth and opioid epidemic across Montana and the nation. The bill is now on the way to the president's desk for signature.
Download HERE
Watch HERE
"Way too often we're seeing stories of Montana tribes, families and communities being destroyed by meth and opioids," Daines said. "This landmark legislation will give our communities the much-needed resources to curb this devastating epidemic. This bill will also help stop the drugs from crossing the southern border and coming into Montana in the first place."
Today, Daines also met with James Carroll, the nominee to head the Office of National Drug Control Policy (ONDCP), to discuss the importance of ending the drug epidemic in Montana. At the meeting, Daines hand delivered a letter to Carroll inviting him to Montana. Carroll is currently the Acting Director for ONDCP.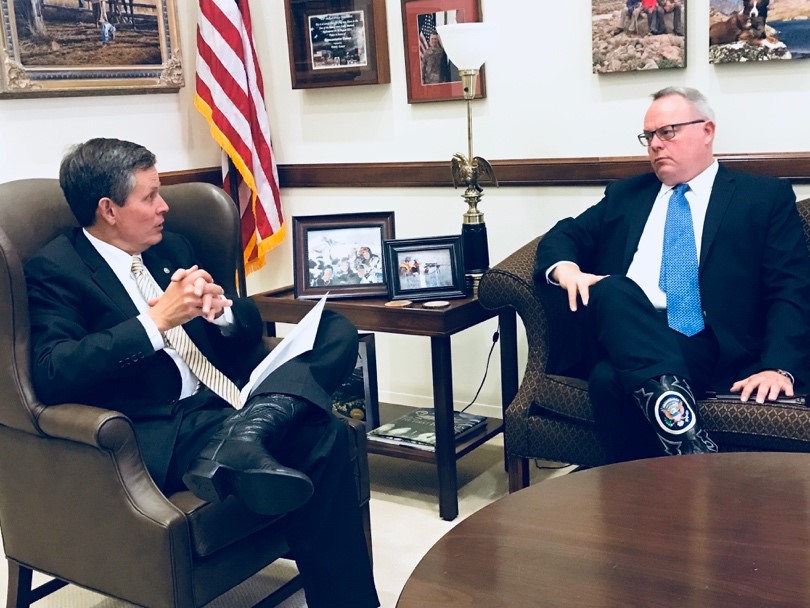 Daines and Carroll
Last month, Daines took to the floor of the U.S. Senate to urge his colleagues to support the measure and to highlight the drastic impacts meth and opioids have in Montana.
Daines fought to include multiple provisions in the Senate passed package that will help combat the meth and opioid crisis in Montana including:
The bipartisan Mitigating METH Act, introduced by Daines, which expands the state targeted response to the opioid crisis grants to include Indian tribes as eligible recipients.
The bipartisan STOP Act which helps stop illegal drugs from coming in at the border or being shipped through the postal service.
Daines also fought to reauthorize key meth prevention and enforcement in the Senate passed package including:
Reauthorization of the High Intensity Drug Trafficking Areas (HIDTA)
Reauthorization of the Drug Court program
Codifying the COPS Anti-Meth Program
###