U.S. SENATE — U.S. Senator Steve Daines recognized Caleb Frare of Custer County for his Major League Baseball debut.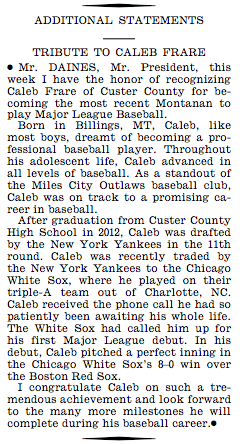 Daines' recognition in the Congressional Record is available here.
Through his "Montanan of the Week" initiative, Daines each week will highlight a Montanan by submitting a statement of recognition in the official Congressional Record, the document that reflects the official proceedings of Congress.
Daines welcomes anyone to nominate fellow Montanans for Daines' "Montanan of the Week" program by calling Daines' office at 202-224-2651 or by filling out the contact form on Daines' website: HERE.
The following is the statement submitted to the Congressional Record:
TRIBUTE TO CALEB FRARE
Mr. DAINES, Mr. President, this week I have the honor of recognizing Caleb Frare of Custer County for becoming the most recent Montanan to play Major League Baseball.
Born in Billings, Montana, Caleb, like most boys, dreamt of becoming a professional baseball player. Throughout his adolescent life, Caleb advanced in all levels of baseball. As a standout of the Miles City Outlaws baseball club, Caleb was on track to a promising career in baseball.
After graduation from Custer County High School in 2012, Caleb was drafted by the New York Yankees in the 11th round. Caleb was recently traded by the New York Yankees to the Chicago White Sox, where he played on their triple-A team out of Charlotte, NC. Caleb received the phone call he had so patiently been awaiting his whole life. The White Sox had called him up for his first Major League debut. In his debut, Caleb pitched a perfect inning in the Chicago White Sox's 8-0 win over the Boston Red Sox.
I congratulate Caleb on such a tremendous achievement and look forward to the many more milestones he will complete during his baseball career.
###