U.S. SENATE — U.S. Senator Steve Daines recognized Chuck Nerud of McCone County for his contributions to his community.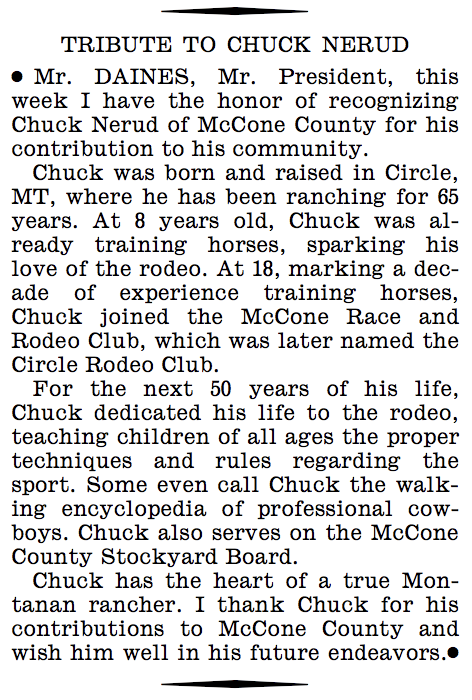 Daines' recognition in the Congressional Record is available here.
Through his "Montanan of the Week" initiative, Daines each week will highlight a Montanan by submitting a statement of recognition in the official Congressional Record, the document that reflects the official proceedings of Congress.
Daines welcomes anyone to nominate fellow Montanans for Daines' "Montanan of the Week" program by calling Daines' office at 202-224-2651 or by filling out the contact form on Daines' website: HERE.
The following is the statement submitted to the Congressional Record:
TRIBUTE TO CHUCK NERUD
Mr. DAINES, Mr. President, this week I have the honor of recognizing Chuck Nerud of McCone County for his contributions to his community.
Chuck was born and raised in Circle, Montana, where he has been ranching for 65 years. At 8 years old, Chuck was already training horses, sparking his love of the rodeo. At 18, marking a decade of experience training horses, Chuck joined the McCone Race and Rodeo Club, which was later named the Circle Rodeo Club.
For the next 50 years of his life, Chuck dedicated his life to the rodeo, teaching children of all ages the proper techniques and rules regarding the sport. Some even call Chuck the walking encyclopedia of Professional Cowboys. Chuck also serves on the McCone County Stockyard Board.
Chuck has the heart of a true Montanan rancher. I thank Chuck for his contributions to McCone County and wish him well in his future endeavors.
###