U.S. SENATE —U.S. Senator Steve Daines today met with community leaders and stakeholders to address the importance and future of the Land and Water Conservation Fund (LWCF), a widely supported, bipartisan program critical to Montana jobs and protecting Montanans' outdoor way of life. Without congressional action, the program will expire at the end of September.
Daines was joined by Mary Hollow with Prickly Pear Land Trust, Mark Lambrecht with Rocky Mountain Elk Foundation, Mark Aagenes with The Nature Conservancy, Glenn Marx with the Montana Association of Land Trusts, and Dave Chadwick with Montana Wildlife Federation.
"LWCF is so important to Montana, and the benefits extend from coast to coast, all across our nation. It costs the taxpayers nothing," Daines said. "We have the bipartisan support in Congress to save this critical program. Let's get this done."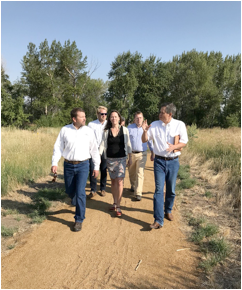 Statements of Support:
Mary Hollow, Executive Director, Prickly Pear Land Trust: "We're absolutely thrilled to have Senator Daines sign on to S. 569. His support for the program has been solid since the time he went to Washington, D.C., and now we're excited to work with him to get it done."
Glenn Marx, Executive Director, Montana Association of Land Trusts: "The LWCF is America's and Montana's premier conservation program. If you enjoy the outdoors, public lands, wildlife habitat, you support the LWCF. We're very grateful to Senator Daines for his consistent support for this important conservation program.
Dave Chadwick, Executive Director, Montana Wildlife Federation: "There aren't many issues that bring people together like conservation. LWCF helps people get outside for hunting, fishing, and every else we enjoy about the outdoors. It's crucially important for providing wildlife habitat, and that means habitat for deer, elk, and other big game, as well as preventing wildlife from becoming endangered. We're grateful that Senator Daines signed onto S. 569 and added to the growing momentum behind this initiative. There is a big opportunity for Congress to take action to conserve land, water, and wildlife before the end of the year.
Mark Aagenes, Director of External Affairs, The Nature Conservancy in Montana: "From protecting our ranchlands, to better access for recreation, the Land and Water Conservation Fund (LWCF) is all about growing our local economies and Senator Daines gets that. His support of this critical, bipartisan piece of legislation to permanently reauthorize and more importantly, authorize dedicated and mandatory funding for LWCF is important now more than ever, as the program is set to expire in less than 50 days. Senator Daines' leadership will be critical to protecting this hallmark program."
Kyle Weaver, President & CEO, Rocky Mountain Elk Foundation: "The expiration of LWCF at the end of September creates a great deal of uncertainty for landowners and sportsmen concerned with habitat conservation and hunting access. To date LWCF funding has provided over $108 million in funding that assisted 80 RMEF projects which permanently protected more than 152,000 acres of wildlife habitat. RMEF is grateful for Sen. Daines' leadership in fighting for reauthorization and full funding of this critical program that benefits all Americans."
Backkground:
Daines has long been an advocate for strengthening and preserving LWCF. Since taking office, Daines has sent multiple letters, spoken at congressional hearings, held press conferences, and cosponsored legislation supporting permanent reauthorization and full funding of the program.
On August 1st, Daines cosponsored S. 569, the Land and Water Conservation Authorization and Funding Act, introduced by Sen. Maria Cantwell (D-Wash.), which permanently reauthorizes the program and requires full, mandatory funding. The same day, Daines, joined by a bipartisan group of Senators, sent a letter to Senate Leadership further urging permanent reauthorization of LWCF.
Daines also secured $425 million in funding for LWCF, which includes funding for several projects in Montana: Everson Bench ($400,000), Montana Wildfire Refuge ($4 million), Kootenai Forestland ($6 million), Beavertail ($3,800,000), Swan Range ($4 million) and Cleawater-Blackfoot ($5 million). These projects will significantly increase public access and conservation for Montanans. The funding is included in this year's Interior appropriations bill, which is expected to be signed into law after the Senate goes to conference with the House.
Click HERE to learn more about Daines' efforts to strengthen and protect LWCF.
###