U.S. SENATE — U.S. Senator Steve Daines recognized Olivia Mitchell for taking third place on her Americanism essay at the Montana Department of the American Legion Auxiliary convention.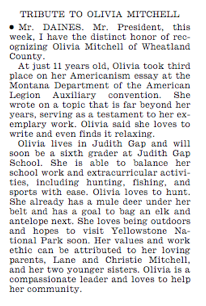 Daines' recognition in the Congressional Record is available here.
Through his "Montanan of the Week" initiative, Daines each week will highlight a Montanan by submitting a statement of recognition in the official Congressional Record, the document that reflects the official proceedings of Congress.
Daines welcomes anyone to nominate fellow Montanans for Daines' "Montanan of the Week" program by alling Daines' office at 202-224-2651 or by filling out the contact form on Daines' website HERE.
The following is the statement submitted to the Congressional Record:
TRIBUTE TO OLIVIA MITCHELL
Mr. DAINES. Mr. President, this week, I have the distinct honor of recognizing Olivia Mitchell of Wheatland County.
At just eleven years old, Olivia took third place on her Americanism Essay at the Montana Department of the American Legion Auxiliary convention. She wrote on a topic that is far beyond her years, serving as a testament to her exemplary work. Olivia said she loves to write and even finds it relaxing.
Olivia lives in Judith Gap, and will soon be a sixth grader at Judith Gap School. She is able to balance her school work and extra-curricular activities including hunting, fishing, and sports with ease. Olivia loves to hunt. She already has a mule deer under her belt, and has a goal to bag an elk and antelope next. She loves being outdoors, and hopes to visit Yellowstone National Park soon. Her values and work ethic can be attributed to her loving parents, Lane and Christie Mitchell, and her two younger sisters. Olivia is a compassionate leader, and loves to help her community.
I congratulate Olivia on her accomplishments. I look forward to seeing her succeed as she continues to grow.
###