U.S. SENATE —U.S. Senator Steve Daines today met with the Supreme Court Nominee Brett Kavanaugh. Below is his statement: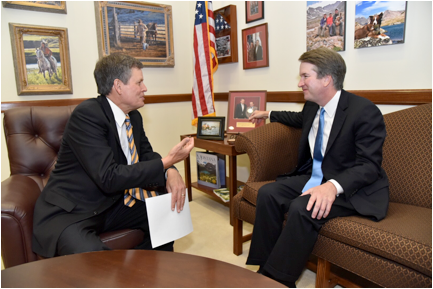 "As a U.S. Senator, one of my most significant responsibilities is to critically and thoughtfully evaluate the individuals charged with defending our Constitution and our nation's laws. It is disappointing that many of my Democrat colleagues in the Senate apparently do not feel the same and decided to oppose Judge Kavanaugh's nomination before it was even announced. In our meeting today, I found that Judge Kavanaugh has proven himself to be a well-qualified judge who appreciates the vital role that our Supreme Court holds and understands that it not appropriate for justices to legislate from the bench, but that they must apply the Constitution without regard to the policy outcome they want. I am confident that Judge Kavanaugh will serve well on our nation's highest court and hope that he will receive a fair confirmation hearing. I offer him my full support and my vote."
Daines joined President Donald J. Trump at the White House for the historic announcement on Monday July 9, 2018.
Daines discussed the nominee on Air Force One traveling to Montana on July 5, 2018.
###