Colstrip critical to U.S. energy security and reliability
U.S. SENATE — Today, during a Senate Energy and Natural Resources Committee hearing, U.S. Senator Steve Daines pressed Federal Energy Regulatory Commission (FERC) Commissioner Neil Chatterjee on the importance of the Colstrip Power Plant to Montana and grid reliability.
FERC is an independent agency that regulates the movement of natural gas, oil, and electricity between states. FERC also oversees regulation for natural gas and hydropower projects.
Colstrip is critical to ensuring Montanans have access to reliable, affordable energy. It generates enough power for 1.5 million homes. The power plant is a major source of revenue, generating $104 million in state and local taxes. Colstrip is also a major source of good-paying jobs for Montanans. The power plant employs 350 highly-paid workers and Rosebud Mine employs 380 workers and supports 3,700 jobs across the state.
"The longevity of coal plants in Montana like Colstrip and the reliability of the transmission line demand close attention by the Commission and all of the federal government," said Daines.
Commissioner Chatterjee said that FERC will look at plants like Colstrip and "make a determination based on significance to the region and if there would be threats to reliability in the event that the plant shutdown."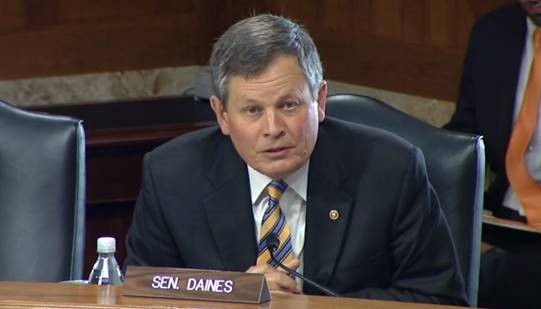 Watch video HERE.
Download video HERE.
Commissioner Chatterjee recently visited the Colstrip Power Plant when attending Daines' second Montana Energy Summit in Billings. Commissioner Chatterjee was the first FERC commissioner to visit Colstrip.
Read Daines' op-ed and the Energy Summit and Montana's energy potential, HERE.
Stream video from the Energy Summit, HERE.
Background:
On February 14, 2018, Daines and U.S. House Representative Greg Gianforte sent a letter to the Washington State legislature urging the body to reject legislation that would tax fuel produced at the Colstrip Power Plant and raise energy costs for Montanans.
On January 23, 2018, Daines highlighted the critical role Colstrip Power Plant plays in all-of-the-above approach to meet energy demands. His remarks were made during a Senate Energy and Natural Resources Committee hearing about the importance of reliable and affordable energy during cold winters.
On January 1, 2017, Daines invited Perry to Colstrip and the Crow Reservation and commended his attention to a letter from Lori Shaw, co-founder of Colstrip United, a grassroots citizens' group to President-elect Trump imploring his attention to Colstrip.
On October 28, 2016, in a letter to Paul Farr, the President and CEO of Talen Energy Corporation, Daines sought clarification if a decision had already been made to close Colstrip Units 1 and 2 at the earliest opportunity in 2017 and if the disclosure of this decision is being withheld.
On August 2, 2016, Daines announced that the coal scoping meeting he hosted in Billings generated 68 comments to the Bureau of Land Management (BLM) for their review of the federal coal program.
On June 21, 2016, Daines held a public meeting in Billings to ensure that the Department of Interior (DOI) hears the voices that will be most impacted by their review of the federal coal program.
On May 17 2016, Daines introduced bicameral legislation to protect Montana coal jobs from the Obama administration's recent moratorium on new federal coal leases and ensure that states and tribes have a significant voice in any changes to federal coal, oil, gas royalties or leasing policy.
On April 27, 2016, Daines called on Department of Interior Secretary Sally Jewell to tour Colstrip and the Crow Reservation during her upcoming travel to Montana.
In March 2016, Daines stopped in ten-cities across Montana on his statewide tour to promote made-in-Montana energy and the good-paying jobs it supports. Daines' tour included stops in Laurel, Colstrip, Miles City, Baker, Glendive, Sidney, Great Falls, Missoula, Helena and Butte.
On December 1, 2015, Daines applauded the House of Representative's bipartisan vote to fully nullify President Obama's anti-coal regulations that threaten more than 7,000 Montana jobs.
On November 17, 2015, ahead of a vote to fully nullify President Obama's so-called "Clean Power Plan," Daines took to the Senate floor to urge his colleagues to join him in standing up for American energy independence.
On October 27, 2015, Daines went to bat for Montana coal jobs by formally introducing measures to block implementation of new rules on coal-fired power plants and calling the Obama administration's myriad of anti-coal regulations a direct attack on Montana energy.
On May 13, 2015, Daines sponsored The Affordable Reliable Energy Now Act (ARENA), which holds the Environmental Protection Agency (EPA) accountable and protects states' rights by requiring the EPA to demonstrate how their proposed regulations could impact each state.
###