Clearing debris supports timber jobs and public safety
U.S. SENATE – This week, Vicki Christiansen, Interim Chief of the Forest Service, announced that she approved U.S. Senator Steve Daines' request to expedite removal of dead and dying timber leftover from wildfires in the Lolo National Forest.
"Dead and dying trees are sitting in our National Forests, creating safety hazards and losing their economic value," said Daines. "Clearing the debris will support good-paying timber jobs at nearby mills that have been waiting to take action."
Interim Chief Christiansen made the announcement after being questioned by Daines at a Senate Energy and Natural Resource hearing. During the hearing, Daines asked Interim Chief Christiansen to provide an update on his requests to clear the debris as quickly as possible and open up opportunities for Montana timber workers.
Interim Chief Christiansen responded that she had signed Daines' request for the Lolo National Forest and she indicated four additional requests are pending her approval in the coming weeks.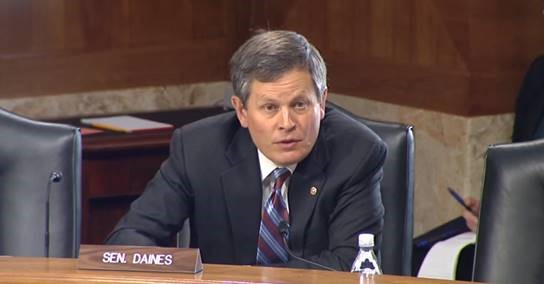 Watch video HERE
Download video HERE
Montana's timber industry employs roughly 7,700 workers, including in Ravalli and Mineral County where unemployment levels are high. Together, timber-related jobs create about $335 million in compensation for Montanans annually.
Not removing rotting, dead trees can create safety hazards for visitors to Montana's National Forests.
Background:
On May 24, 2018, Daines sent a letter to Vicki Christiansen, Interim Chief of the Forest Service, requesting immediate action on the National Forest System lands in Montana impacted by the 2017 wildfires.
###