U.S. SENATE — U.S. Senators Steve Daines (R-MT), David Perdue (R-GA), Bill Cassidy (R-LA), Ted Cruz (R-TX), Joni Ernst (R-IA), Deb Fischer (R-NE), Dean Heller (R-NV), Ron Johnson (R-WI), John Kennedy (R-LA), James Lankford (R-OK), Mike Lee (R-UT), Mike Rounds (R-SD), Ben Sasse (R-NE), Dan Sullivan (R-AK), Thom Tillis (R-NC) and Roger Wicker (R-MS) are asking Majority Leader Mitch McConnell to expedite floor consideration of funding bills and nominees in order to make substantial progress before the end of the fiscal year, September 30.
Yesterday, Daines and a group of Senate colleagues held a press conference to express their willingness to work nights, weekends, and through the August state work period in order to confirm President Trump's nominees and avoid last-minute funding battles.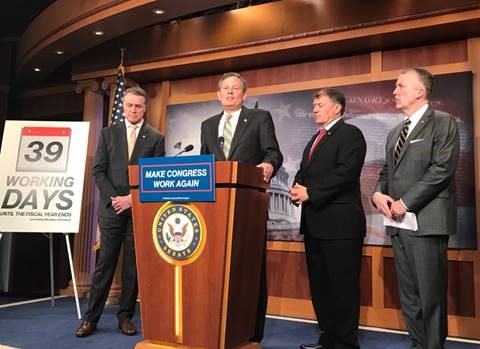 To watch a video of the press conference, click HERE.
"Congress has no business taking a recess when the people's business remains unfinished," said Daines.
###