U.S. SENATE —U.S. Senator Steve Daines today recognized Kelli Lohr for her dedication to maintaining a community business important to the people of Toole County.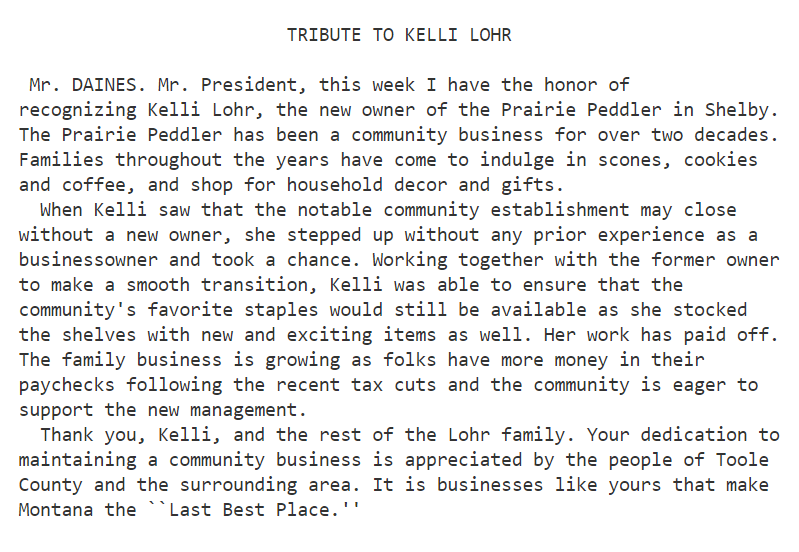 Daines' recognition in the Congressional Record is available here.
Through his "Montanan of the Week" initiative, Daines each week will highlight a Montanan by submitting a statement of recognition in the official Congressional Record, the document that reflects the official proceedings of Congress.
Daines welcomes anyone to nominate fellow Montanans for Daines' "Montanan of the Week" program by calling Daines' office at 202-224-2651 or by filling out the contact form on Daines' website: http://www.daines.senate.gov/connect/email-steve
The following is the statement submitted to the Congressional Record:
MONTANAN OF THE WEEK
Mr. President, this week I have the honor of recognizing Kelli Lohr, the new owner of the Prairie Peddler in Shelby. The Prairie Peddler has been a community business for over two decades. Families throughout the years have come to indulge in scones, cookies and coffee, and shop for household décor and gifts.
When Kelli saw that the notable community establishment may close without a new owner, she stepped up, without any prior experience as a business owner, and took a chance. Working together with the former owner to make a smooth transition, Kelli was able to ensure that the community's favorite staples would still be available as she stocked the shelves with new and exciting items as well. Her work has paid off. The family business is growing as folks have more money in their paychecks following the recent tax cuts and the community is eager to support the new management.
Thank you, Kelli and the rest of the Lohr family! Your dedication to maintaining a community business is appreciated by the people of Toole County and the surrounding area. Its businesses like yours that make Montana the Last Best Place.
###