U.S. Senate – Today, U.S. Senator Steve Daines released a video of his recent six-day, 26 county tour around Montana, where the passage of the Tax Cuts and Jobs Act has increased wages, created jobs and helped small business owners expand and invest in new equipment.
"The ink of the tax cuts bill is barely dry and already Montanans are seeing more money in their pockets," said Daines. "More jobs and higher paychecks – that's what real hope and change looks like."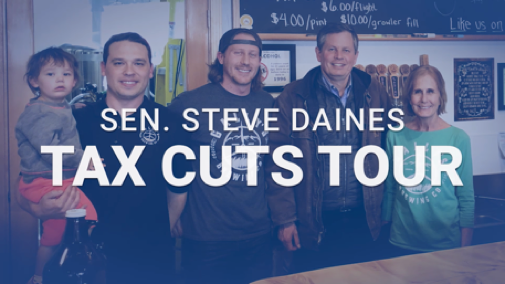 Watch video HERE.
Download video HERE.
Background:

On February 23, 2018, Daines finished a four-day tax tour through 17 counties in Montana to hear how the Tax Cuts and Jobs Act has impacted local brewers and other businesses.
On February 5, 2018, Daines wrapped up a tour across Eastern Montana with stops in Billings, Sidney, Circle, Glendive, Ekalaka, Baker, Wibaux, Terry and Miles City to discuss the benefits Montanans are seeing from tax cuts.
On December 19, 2017, Daines voted to send the Tax Cuts and Jobs Act to the President's desk and return over $700 million in tax cuts to Montanans.
On December, 1 2017, Senator Daines announced he secured $100 billion in tax cuts for Main Street businesses.
###

Contact: Marcie Kinzel, Breanna Deutsch, Julia Doyle