U.S. SENATE — U.S. Senator Steve Daines today spoke on the floor of the U.S. Senate, urging his colleagues to join him in preventing a government shutdown and supporting a six-year reauthorization of the Children's Health Insurance Program (CHIP), which provides critical health care services to 24,000 Montana children.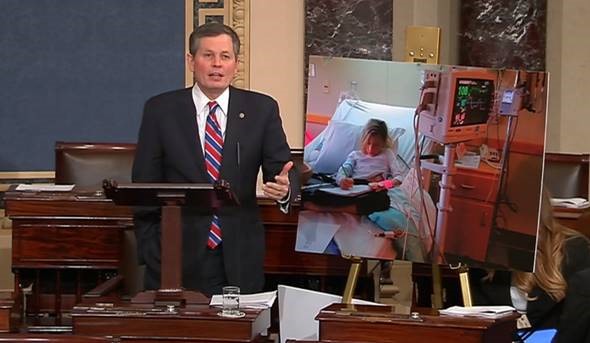 To watch the video click HERE.
To download the video click HERE.
Background:
The U.S. House and Senate are expected to vote this week on legislation that would prevent the government from shutting down on January 19th.
CHIP provides vital health services for over eight million children and 370,000 pregnant women across the United States each year.
Since CHIP's creation, the number of uninsured children has fallen by one-third. Today, the number of uninsured children is the lowest on record.
Montana counties with the highest number of children enrolled in CHIP:
Yellowstone – 3,288 children
Flathead – 2,950 children
Gallatin – 2,765 children
Missoula – 2,284 children
Cascade – 1,325 children
Statement of Support:
"We are grateful to Senator Daines for not only championing the 6-year extension of the Children's Health Insurance Program (CHIP) but also encouraging bi-partisan support for children and families. A 6-year extension of CHIP provides longterm stability of pediatric care in Montana; supports the mission of Montana Children's Medical Center and the physicians affiliated with Montana Children's specialties," -Pamela Robertson, CEO, and President, Kalispell Regional Healthcare.
Text as prepared:
Mr. President, 24,000 Montana children's access to healthcare is on the line today. The House of Representatives is working to pass legislation that reauthorizes a program called the Children's Health Insurance Program – better known as CHIP – for six years and keep the government open. Which, if passed, will then come to us for a vote.
Why don't we take the opportunity before us to come together on issues we agree on instead of always fighting about what divides us? And I think we can all agree on keeping Montana kids healthy.
Let me tell you a story about a family from Helena, Montana. The A-Gee family.
Jaxon was a normal baby – a happy, healthy baby – until October 2016, when he was just 8 months old. That's when he was first flown from Helena to Missoula's Community Medical Center's pediatric intensive care unit. He was deathly ill with a respiratory infection.
At the time, it wasn't clear why Jaxon got so sick, but his parents soon learned that he had Leigh syndrome, a disease in which the body is not able to process energy properly, leading to muscle weakness, swallowing problems and severe illness with simple colds. His parents quickly learned to manage his new feeding tube, suction his mouth and throat, and put him on oxygen monitors at night.
Unfortunately, Jaxon has had five more serious infections. Each time, he's become ill – it's happened so quickly that he's had to be flown to Missoula, even though he has a team of pediatricians, nurses, dietitians, speech therapists and physical therapists trying to help keep him from getting ill.
As Jaxon's mom would say when Jaxon gets ill, the only way to keep him from having to be flown to Missoula is to get him seen by his pediatrician as soon as possible – so if he does get sick, it's minor.
This family is grateful to Healthy Montana Kids, Montana's CHIP program, for providing Jaxon's insurance, and they pay copays for his care and medical supplies. His mom says that the insurance is what makes it possible to manage Jaxon's condition and possible to afford well checks, instead of just going to the doctor on an emergency basis.
Jaxon's dad was disabled in a workplace accident and is at home caring for Jaxon and the family's other two children. Jaxon's mom works and her employer has been "phenomenal" to her as they have faced Jaxon's hospitalizations. But the family of five couldn't afford Jaxon's care without Healthy Montana Kids. A helicopter bill for the ride from Helena to Missoula, alone, can be as much as $34,000. And Jaxon has taken that flight six times.
This family doesn't know what they'll do if the funding for CHIP runs out but they are committed to caring for their son no matter what.
Mr. President – this is why I support a six year reauthorization of CHIP.
Let me give you another reason.
This is Danielle. She's nine years old and lives in Deer Lodge, Montana. When she was just 18 months old, she suddenly lost the ability to walk. Danielle was diagnosed with a form of juvenile arthritis – a disease that causes pain, swelling and stiffness of joints – as well as vision problems.
Thankfully, Danielle was started on a medication, a twice a month injection, that controls the swelling and inflammation. Because of that – she can walk and run again.
The injections are expensive though – to pay outright for just one month costs over $6,000. And last summer, for three months, Danielle was unable to get the injections. She stopped walking and had to stop going to school. Her mom carried her through the house.
When Danielle was approved for Montana's CHIP program, she was able to go to the doctor and get Danielle on another medication, an infusion. She's now back at school and running around "like a kid who doesn't have any problems." Danielle loves to study math and science – and when she grows up, of all things – her dream is to be a doctor for kids.
Without CHIP, Danielle's family would be unable to afford the medication she needs. Without CHIP, Danielle would not be walking.
Danielle and Jaxon – and the thousands of other Montana kids and their families need us to work for them.
Mr. President – I am saddened that partisan politics would come in the way of these children's access to health care. We have the opportunity to reauthorize CHIP for six years and avert a government shutdown at the same time.
I urge my colleagues to do the right thing here – to do the right thing for the 24,000 Montana kids who use this important program. I urge them to support a six year reauthorization of CHIP and keep the government open.
###