U.S. SENATE —U.S. Senator Steve Daines today released the following statement on President Donald J. Trump's nominee to lead the U.S. Department of Homeland Security (DHS), Kirstjen Nielsen.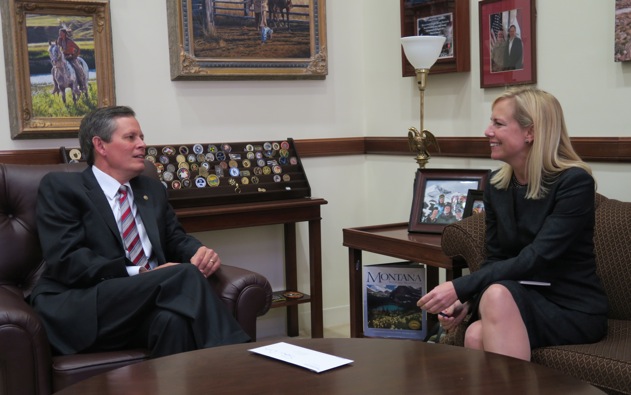 "Kirstjen Nielsen is an eminently qualified leader who understands the threats facing our nation and will tackle those challenges head-on," Daines stated. "I look forward to working with Ms. Nielsen to secure our borders and keep Americans safe."
Daines and Nielsen discussed strengthening cybersecurity, specifically addressing the threat facing students and families in the Flathead Valley, combatting meth abuse and securing the Northern border and Southern border.
On October 11, 2017, Daines released a statement on Nielsen's nomination noting that he looked forward to a quick Senate confirmation without partisan politics.
Daines is a member of the U.S. Senate Committee on Homeland Security and Governmental Affairs, which has jurisdiction for DHS including nominations subject to Senate confirmation.
During the meeting, Daines hand-delivered a letter to Nielsen outlining the challenges facing DHS and invited her to visit Montana's Northern border.
The letter is available for download HERE and below:
Dear Ms. Nielsen:
It was a pleasure to meet today and discuss your strategy for defending our homeland. Thank you for your service dedicated to improving our Nation's security, especially cybersecurity, and your willingness to shoulder more responsibility, now as Secretary of the Department of Homeland Security (DHS). As we discussed, I would like to extend a formal invitation to visit Montana to tour the Northern border.
One of the greatest successes of this Administration has been the result of President Trump signaling that the United States will enforce its laws. This has led to quantifiable improvements at DHS, under the leadership of Gen. John Kelly. Apprehension rates for illegal Southwest border crossings have dropped nearly 30 percent year-to-date, compared to the same timeframe in 2016, and some months have seen an over 60 percent reduction. Drug seizures have increased by many measures. And, morale has improved by upwards of seven percent, according to Acting Secretary Elaine Duke at a recent Homeland Security and Governmental Affairs Committee hearing. I have confidence that you will maintain this positive trajectory and look forward to continued updates on this end.
While security efforts along the Southern border are of critical importance, we cannot not lose sight of our Northern border. Canada is a close friend and ally, however we must ensure our shared border does not become an opportunity for those who would do us harm.
Robust staffing and execution of DHS's responsibilities along the Northern border are not only important to our national security, but also to our state's and Nation's economic wellbeing. Canada is our largest export market, purchasing over $320 billion of American-made goods and services in 2016 and supporting 1.6 million American jobs. Last year, Canada purchased $635 million of goods from Montana – 46.7 percent of the state's total exports – supporting over 26,000 Montana jobs.
As we also discussed, technology and telecommunications infrastructure has removed geography as a barrier to economic opportunity in rural communities. Montana has become home to a vibrant business community, with entrepreneurs starting and growing world-class businesses. However, cybersecurity threats continue to pose a high risk to both established and burgeoning companies. I look forward to continuing the collaboration as the Department continues to develop cyber protections, resiliencies, and reliability.
I look forward to hosting you in Montana and working closely to further secure our border, enhance cybersecurity, facilitate lawful international travel and trade, and stem the flow of illegal drugs.
Sincerely,
###