U.S. SENATE — During National Asbestos Awareness Week, U.S. Senator Steve Daines today recognized the people of Libby, Montana, for their resiliency and strength in confronting economic, environmental, and public health challenges.
Daines is pictured with Dr. Brad Black, Ms. Tanis Hernandez, and Ms. Tracy McNew of CARD.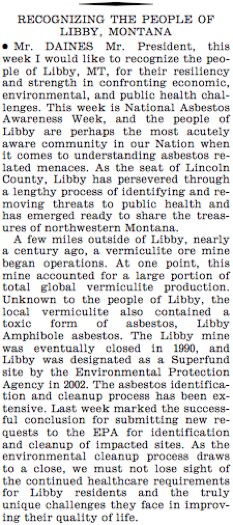 Daines' recognition in the Congressional Record is available here.
Through his "Montanan of the Week" initiative, Daines each week will highlight a Montanan by submitting a statement of recognition in the official Congressional Record, the document that reflects the official proceedings of Congress.
Daines welcomes anyone to nominate fellow Montanans for Daines' "Montanan of the Week" program by calling Daines' office at 202-224-2651 or by filling out the contact form on Daines' website: http://www.daines.senate.gov/connect/email-steve
The following is the statement submitted to the Congressional Record:
MONTANAN OF THE WEEK
Mr. DAINES. Mr. President, this week, I would like to recognize the people of Libby, Montana, for their resiliency and strength in confronting economic, environmental, and public health challenges. This week is National Asbestos Awareness Week, and the people of Libby are perhaps the most acutely aware community in our nation when it comes to understanding asbestos related menaces. As the seat of Lincoln County, Libby has persevered through a lengthy process of identifying and removing threats to public health, and has emerged ready to share the treasures of northwestern Montana.
A few miles outside of Libby, nearly a century ago, a vermiculite ore mine beπgan operations. At one point, this mine accounted for a large portion of total global vermiculite production. Unknown to the people of Libby, the local vermiculite also contained a toxic form of asbestos – Libby Amphibole Asbestos. The Libby mine was eventually closed in 1990, and Libby was designated as a Superfund site by the Environmental Protection Agency in 2002. The asbestos identification and clean-up process has been extensive. Last week marked the successful conclusion for submitting new requests to the EPA for identification and clean-up of impacted sites. As the environmental clean-up process draws to a close, we must not lose sight of the continued healthcare requirements for Libby residents, and the truly unique challenges they face in improving their quality of life.
Eight years ago, former United States Senator Max Baucus led the charge to ensure that three essential functions were established to help the people of Libby. These functions included: screening for asbestos related diseases, health care for conditions caused by asbestos exposure, and a program to assist patients with unique services due to asbestos exposure. These vital programs, specifically designed to help those most in need, are essential and must be preserved. With these tools available, over four thousand individuals have been screened and over two thousand individuals have been diagnosed with asbestos related diseases. On March 6th, I sent a letter to Speaker of the House Paul Ryan and Senate Majority Leader Mitch McConnell, to preserve these tools for the people of Libby. The latency period for diseases related to asbestos exposure can be decades into the future. Long after the environmental and economic impacts have been overcome, the human impact in Libby will continue. As the debate over healthcare ebbs and flows, the essential protections for the people of Libby must remain intact.
The Center for Asbestos Related Disease, known locally as the CARD Clinic, is a vital non-profit resource located in Libby that helps with identification, treatment, and research for those with asbestos exposure. The tools championed by Senator Baucus are vital to the success of a community resource like the CARD Clinic. As the Senator who now serves the people of Montana from Senator Baucus' old seat, it is my duty to continue to fight for the people of Libby.
To understand the impact these programs have on the daily lives of people in the area, it makes sense to listen to their personal experiences. Lynn Sather-Diller said the CARD clinic has helped "me to stay as healthy as possible even though I have an asbestos related disease. I wouldn't be able to do it without their help.
The basic activity of breathing, something many of us simply take for granted, is a daily concern and immense priority for those with asbestos related diseases.
Angie Hill added "Asbestos related disease is life changing. Hard to say in only a few words, our exposure started in our childhood & is so scary when you struggle to breath. We are thankful for the exceptional medical care & educational information the CARD center, Dr. Brad Black & his staff provide to it's patients." Echoing those sentiments was Judy Lundstrom "You helped with exams and I am on night oxygen and feel much better so can continue my job. I am able to stay in my own home because Dr. Black and Tanis helped."
These examples show the strength of the people of Libby. This region will continue to find ways to reach its potential. Like the rest of Montana, Libby is blessed with awe inspiring beauty and immense natural resources. The Cabinet Mountain Range south of Libby has the majesty of a divine painting, and this masterpiece will always draw travelers to the region. The soon to open Montanore Mine will be a major producer of copper and silver The Kootenai National Forest contains significant timber resources. The Libby Dam to the east of town produces reliable energy, helping to empower the United States through energy dominance. The Kootenai River flows through that dam, and is an engine of recreational activity, inviting outdoor enthusiasts from across the globe to explore the natural splendor of Lincoln County, and gaze in wonder at the Kootenai Falls. As the people of Libby overcome the past, and chart a course for the years ahead, I admire their resilient attitude and steadfast determination. While the hardy character and independent spirit of this small community in far Northwest Montana, we must not abandon our commitment to giving them a hand up and the tools necessary to succeed.
###