U.S. SENATE —U.S. Senator Steve Daines today questioned President-elect Donald J. Trump's nominee for the U.S. Department of Energy, former Texas Governor Rick Perry during the nomination hearing in the U.S. Senate Committee on Energy and Natural Resources.
Click here to download Daines' questioning.
Click here to watch Daines' questioning.
"As you know, Units 1 and 2 at Colstrip are already scheduled to close due to environmental litigation and under the job-killing EPA Power Plan, the other two units are also at risk," Daines stated. "According to a recent study conducted by the University of Montana, the EPA's Power Plan would kill 7,000 jobs in our state, $500 million in lost revenue, $140 million in lost tax revenues. In Montana with the closure of these plants we will go from being a net energy exporter to energy importer."
"I am concerned that if this administration does not do anything to protect our existing coal fleet, like Colstrip, many Montanans will lose their good-paying jobs, our state could lose its tax revenue from coal production, and our grid will be less secure and less reliable," Daines continued.
In a must-watch response, Perry discussed Daines' passion in working to save Montana coal jobs, specifically referencing Evelyn Old Coyote, the daughter of former Crow Tribal Chairman Darrin Old Coyote.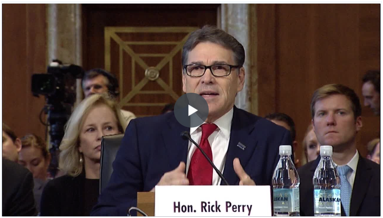 Click here to download Perry's response.
###