U.S. SENATE —U.S. Senator Steve Daines today announced that U.S. Army Major Brad Caton has been selected to serve as a Defense Fellow in Daines' Washington, D.C. office through 2017.
Most recently, Caton served as the Deputy Assistant Chief of Staff G8 (Financial Management) for the 1st Armored Division at Fort Bliss, Texas, and deployed to The Hashemite Kingdom of Jordan as the J8 for CENTCOM Forward – Jordan.
"I am excited to welcome Major Caton to our team to help serve Montana's military members and work to make our nation safer and more secure," Daines stated.
"I look forward to working with Senator Daines to serve the people of Montana and gain a deeper understanding of the important relationship between the legislative branch and the Department of Defense, " Caton stated.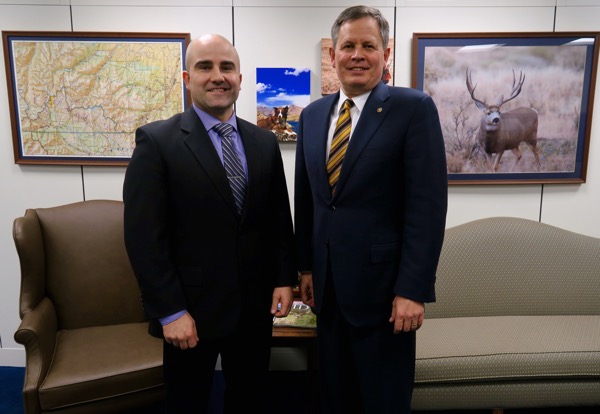 Caton was born in Libby, graduated from Colstrip High School and received his bachelor's and master's from the University of Montana. He also completed the Army Comptroller Course at Syracuse University.
Caton joined the Army in 2001 as an enlisted Infantryman (Montana Army National Guard, ROTC Simultaneous Membership Program at the University of Montana). He was commissioned as an Infantry Second Lieutenant from the University of Montana ROTC program in 2003.
Major Caton's first assignment was with the 4th Infantry Division at Fort Carson, Colorado. While assigned to the 4th Infantry Division, he served as an Infantry Platoon Leader and Battalion Adjutant and deployed to Diyala Province, Iraq, in support of OIF IV. He completed his Infantry branch detail and transitioned to Financial Management in 2007. His first Financial Management assignment was as a budget analyst for US Army Central (USARCENT) at Fort McPherson, Georgia and Camp Arifjan, Kuwait. After this assignment, Caton assumed command of the U.S. Army Pontiac Recruiting Company, Great Lakes Recruiting Battalion. Following his tour in USAREC, MAJ Caton served as the 501st Sustainment Brigade Financial Management Support Operations Officer at Camp Carroll, Republic of Korea.
The Army Fellowship Program offers participants the opportunity to work in the legislative branch of the federal government for one session of Congress.
###