U.S. SENATE —U.S. Senator Steve Daines today released the following statement after meeting with President-elect Donald J. Trump's designee for the U.S. Department of Education, Betsy DeVos.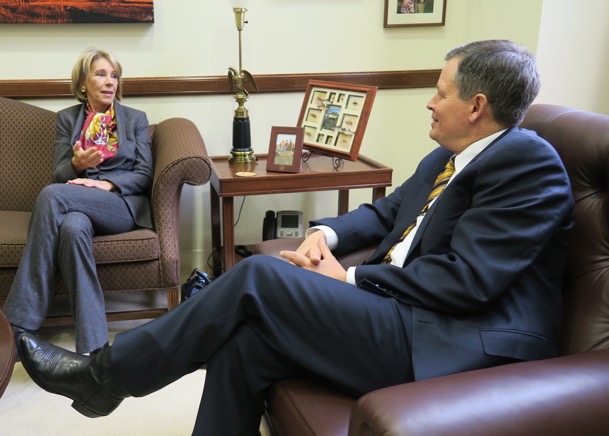 "Betsy DeVos has a passion for education and will be a formidable leader at the Department of Education," Daines stated. "I look forward to watching her shape the Department of Education to increase local control of our schools, with policies that originate with the parents, teachers and administrators who are closest to the classroom."
Daines and DeVos discussed:
Increasing local control over education policies and funding and reducing the role of Washington, D.C. bureaucrats.
Efforts to ensure that families are able to provide the best education possible for their children.
A-PLUS Act:

The A-PLUS Act would give states greater flexibility in allocating federal education funding and ensuring academic achievement. A-PLUS would reduce the administrative and compliance burdens on state and local education agencies, and ensure greater public transparency about the use of federal education funds and student academic achievement.

Under A-PLUS, states would be allowed to obtain federal education funding in the form of block grants.

States could choose to participate in A-PLUS or they could continue to administer their education programs in the current manner.

Daines introduced the A-PLUS Act last Congress and intends to reintroduce it during the 115th Congress.

Impact Aid:

Provides direct, flexible funding to school districts within Indian Country or military installations.

The program is critical for schools where federal activity has reduced the available tax base.
###