U.S. SENATE —U.S. Senator Steve Daines today provided details to those traveling to Washington, D.C. for the 58th Presidential Inauguration.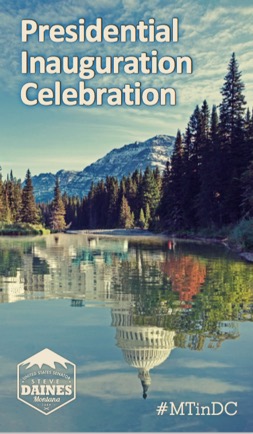 "I'm excited to see so many Montanans in our nation's capital for the 58th Presidential Inauguration," Daines stated.
Details on events are below:
Washington, DC Office Open House: The Senator will be hosting an Open House the day before the Presidential Inauguration on January 20. We hope that Montanans who are visiting will stop by, visit with the Senator and his staff, snap a picture in the Senator for a Day! photo booth and enjoy light refreshments and snacks from Montana. The office will host visitors from 9:00AM to 5:30PM and is located at 320 Hart Senate Office Building.
Inauguration Day Proceedings: The official proceedings of Inauguration Day commence at 11:30AM on the West Lawn of the U.S. Capitol where both President-elect Donald J. Trump and Vice President-elect Mike Pence will take the Oath of the Office.

Tickets: All tickets to the ceremony have been distributed to Montanans by the Daines office. Tickets can be picked up January 16 to 19 in 320 Senate Hart Office Building.
Inaugural Parade: Following the swearing-in ceremony,the Parade will follow the President and Vice President down 15 blocks of Pennsylvania Avenue between the U.S. Capitol and the White House.
Montana State Society: The Montana State Society is hosting The Best of the West Inaugural Ball that will take place on Saturday, January 21 from 7:00PM to 10:00PM at the Old Ebbitt Grill Atrium, just steps from the White House. This non-partisan event will include an open bar and heavy hors d'oeuvres. Tickets are $100 each and are available for sale here: http://www.brownpapertickets.com/event/2717610.
###