U.S. CONGRESS — U.S. Senators Steve Daines and Jon Tester and U.S. Representative Ryan Zinke today hailed the first step in the legislative process to honor the life of renowned Montana conservationist, Alex Diekmann by naming an unnamed peak in his memory.
The Senate Committee on Energy and Natural Resources today held a legislative hearing to name an unnamed 9,765-foot peak as "Alex Diekmann Peak". The legislation now awaits further action in the Committee.
"In the West land projects are not easy tasks—it takes special people to really balance the needs of local landowners—ranchers and foresters—local cities and towns—county commissions, federal and state interests, as well as allowing all these stakeholders to come together to benefit each other, the community, and our iconic wildlife in Montana," Daines stated during today's hearing. "Alex Diekmann had that talent—that's why this bill is supported from Montanans from all walks of life."
"Today is one more step toward ensuring the life and legacy of Alex Diekmann is always remembered," Tester said. "He was a true conservationist whose impact can be felt across the state, and I can't think of a more fitting way to honor his contribution to Montana than renaming this wild peak."
"I'm encouraged by the Senate's quick action to honor Alex's legacy," Rep. Zinke stated. "My staff and I have met with Chairman Bishop and the Natural Resources Committee staff on a number of occasions to expedite this on the House side and we're hopeful for a hearing soon."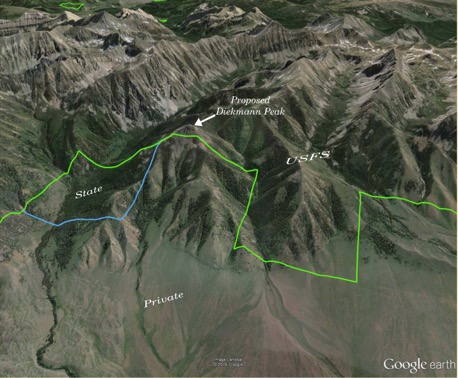 The future Alex Diekmann Peak.
In Bozeman, Diekmann worked as a senior project manager for the Trust for Public Land. He worked for 16 years to protect the Madison and Greater Yellowstone Area, which include the Taylor Fork in the Gallatin Canyon, Three Dollar Bridge, Chestnut Mountain and Frog Rock, and the restoration of O'Dell Creek in the Madison Valley.
On September 8, 2016 the Montana Congressional Delegation formally requested the legislative hearing in the Senate Committee on Energy and Natural Resources, the bill was introduced on July 13, 2016.
###