GREAT FALLS, Mont. — U.S. Senator Steve Daines today recognized Sanders County Sheriff Tom Rummel. Thanks to Sheriff Rummel's initiative and hard work, Montanans affected by the Copper King Fire have been kept safe and up to speed on the latest fire activity.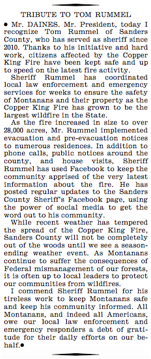 Daines' recognition in the Congressional Record is available here.
Through his "Montanan of the Week" initiative, Daines each week will highlight a Montanan by submitting a statement of recognition in the official Congressional Record, the document that reflects the official proceedings of Congress.
Daines welcomes anyone to nominate fellow Montanans for Daines' "Montanan of the Week" program by calling Daines' office at 202-224-2651 or by filling out the contact form on Daines' website: http://www.daines.senate.gov/connect/email-steve
The following is the statement submitted to the Congressional Record:
MONTANAN OF THE WEEK
MR. DAINES. MR. President, today I would like to recognize Mr. Tom Rummel of Sanders County, who has served as sheriff since 2010. Thanks to his initiative and hard work, citizens affected by the Copper King Fire have been kept safe and up to speed on the latest fire activity.
Sheriff Rummel has coordinated local law enforcement and emergency services for weeks to ensure the safety of Montanans and their property as the Copper King Fire has grown to be the largest wildfire in the state.
As the fire increased in size to over 28,000 acres, Mr. Rummel implemented evacuation and pre-evacuation notices to numerous residences. In addition to phone calls, public notices around the county, and house visits, Sheriff Rummel has used Facebook to keep the community apprised of the very latest information about the fire. He has posted regular updates to the Sanders County Sheriff's Facebook page, using the power of social media to get the word out to his community.
While recent weather has tempered the spread of the Copper King Fire, Sanders County will not be completely out of the woods until we see a season-ending weather event. As Montanans continue to suffer the consequences of federal mismanagement of our forests, it is often up to local leaders to protect our communities from wildfires.
I commend Sheriff Rummel for his tireless work to keep Montanans safe and keep his community informed. All Montanans, and indeed all Americans, owe our local law enforcement and emergency responders a debt of gratitude for their daily efforts on our behalf.
###