U.S. SENATE — U.S. Senator Steve Daines moved forward forest management reforms to improve the health of Montana's National Forests, create good-paying jobs and provide Montanans with the economic certainty they deserve.
On Thursday, the U.S. Senate Committee on Energy and Natural Resources held a legislative hearing on draft legislation aimed at improving forest management and wildfire budgeting.
Additionally, this draft legislation requires federal agencies to work with states to certify firefighting aircraft, personnel and support equipment in advance of the fire season so that resources are available when and where they are most needed. This furthers Senator Daines efforts from last summer.
"It's critical, now more than ever, that we pass forest management reform legislation to increase the health of our National Forests and get folks back to work," Daines stated.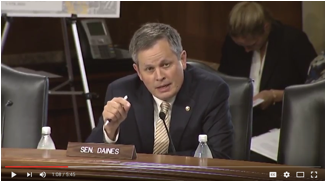 Click here to watch Daines' remarks.
Click here to download Daines' remarks.
In the hearing, Julia Altemus, the Executive Director of the Montana Wood Products Association shared how inadequate supply of timber from National Forests has resulted in sharp reductions to Montana wood products jobs and worsened the health of our forests.
As Montana's only member of the Senate Energy and Natural Resources, Daines will work to further strengthen this bill and work to add ideas from Montanans to protect projects from litigation and ensure enhanced management on the ground gets done.
The draft Wildfire Budgeting, Response, and Forest Management Act would:
End the unsustainable practice of fire borrowing by enabling a transfer of limited funds to the Forest Service (USFS) and the Department of the Interior (DOI) through a budget cap adjustment when all appropriated suppression funding (100% of the 10-year average) has been exhausted.
Allow the agencies to invest any excess appropriated suppression funding in low-fire years in fuel reduction work to reduce the threat of wildfires in and around at-risk communities, protect high-value watersheds, and reduce wildfire suppression costs over time.
Build on existing Healthy Forests Restoration Act authorities to focus and expedite environmental reviews by limiting the number of alternatives that need to be analyzed in certain environmental assessments and environmental impact statements for a subset of critical management actions to include: reducing hazardous fuels, installing fuel and fire breaks to keep fires small and increase firefighter effectiveness and safety, restoring forest health and resilience, and protecting key municipal water supplies and wildlife habitat.
Incentivize collaboration by streamlining process requirements to accelerate implementation of collaboratively developed projects.
Accelerate needed hazardous fuel reduction work in forest types most susceptible to megafires by providing alternative arrangements for project approvals.
Authorize $500 million over seven years to provide assistance to at-risk communities to invest in proven programs that reduce wildfire risk, property loss, and suppression costs.
Click HERE to view the discussion draft.
Earlier this week, Weyerhaeuser announced it is closing two mills in Columbia Falls.
On Wednesday, the U.S. Senate Committee on Indian Affairs passed Daines' bill to improve the health of both Indian and federal forest land.
###