U.S. SENATE — U.S. Senator Steve Daines today recognized Frances Ordway of Chinook for her service to the country. She was a first grade school teacher who served countless Montana students across the state.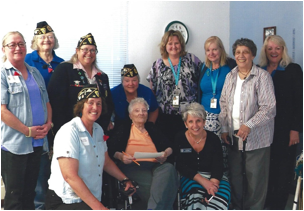 Click here to download.
Click here to download.
Daines' recognition in the Congressional Record is available here.
Through his "Montanan of the Week" initiative, Daines each week will highlight a Montanan by submitting a statement of recognition in the official Congressional Record, the document that reflects the official proceedings of Congress.
Daines welcomes anyone to nominate fellow Montanans for Daines' "Montanan of the Week" program by calling Daines' office at 202-224-2651 or by filling out the contact form on Daines' website: http://www.daines.senate.gov/connect/email-steve
The following is the statement submitted to the Congressional Record:
MONTANAN OF THE WEEK
Mr. DAINES. Mr. President, On January 9th, 1915 the Dolezal family scurried around a humble homestead in Hingham, MT. The house had no heat, no plumbing, and no modern conveniences to combat the bitter Montana cold. Jerry and Grace Dolezal had just welcomed a brand new baby girl—Frances. Her brother, Bob Dolezal says, "My father used to say, she was so small, she could have worn a ring as a bracelet." Frances was a premature breach birth, and the family took turns huddling around her crib, a small dresser drawer, refilling a hot water bottle each hour to keep the newborn warm. Frances would survive that night and many more—she celebrated her 101st birthday this last January.
I would like to take this time to recognize and honor her service to our country and her contribution to the children of Montana. We are the land of the free because of the brave and as we continue to face foreign and domestic threats, I am reminded and humbled by the servicemen and women who protect us and serve. In 1942 the U.S. faced a shortage of military personnel due to WWII. In an effort to fill the void the Women Accepted for Emergency Volunteer Service program (WAVES) was created and allowed women to enlist in the U.S. Navy.
After her brother, George Dolezal, survived the attack on Pearl Harbor, Frances was anxious to do her part and graciously enlisted in July of 1943. She was stationed on Terminal Island in San Pedro, CA for the next two years serving as a 2nd Class Aviation Machinist Mate preparing airplanes before they were shipped overseas.
When the war ended, Frances returned to Montana and earned her Bachelor's degree in education from the Western Montana College of Education, now University of Montana Western, in Dillion. Frances would go on to be a 1st grade teacher and serve the communities of Cutbank, Malta, Havre, Zortman, Ledger and Browning for over 25 years.
Frances was a tough teacher, but fair. In Browning, where class attendance was low, Frances created an innovative cotton ball calendar tactic to motivate class participation. Her classes held the highest attendance rates and many of her schoolchildren would exit 1st grade with 3rd grade reading levels. Her brother Bob says "Her ability to motivate little ones was what I was always impressed with. She instilled in them to never quit; keep trying until you can succeed."
On Frances' 100th birthday she was showered with letters, cards, and gifts from her former students. One student, now a successful businessman in Billings, MT, made it a priority to be in attendance for the celebration. The young man thanked Frances and said that amongst all of his teachers and college professors Mrs. Ordway was his favorite.
In an effort to ensure all Female WWII Veterans receive their WWII Service Medals, Frances was recently honored by the Montana American Legions in Chinook, MT. Frances was pinned with her WWII Victory Medal in honor of her service from 1943-1945.
It is stories like Frances', the Dolezal family and numerous others that remind us of the importance of preserving these stories through efforts like the Veterans History Project. Though many people may never know her name, Montanans and Americans owe her appreciation. Thank you Frances for your patriotism and commitment to the education of young Montana minds.
###