U.S. SENATE — U.S. Senator Steve Daines today joined U.S. Senator Kirsten Gillibrand (D-NY) and U.S. Representatives Chris Gibson (R-NY) and David Valadao (R-CA) to rally support for their legislation to ensure Blue Water Navy Vietnam Veterans are eligible to receive benefits linked to Agent Orange Exposure.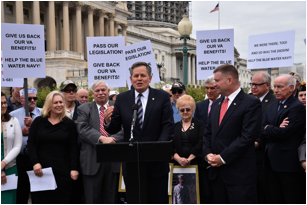 Daines at the U.S. Capitol with Senate and House co-sponsors and veterans. Click here to download.
Click here to watch Daines' remarks.
Click here to download Daines' remarks.
Daines introduced legislation to ensure thousands of Vietnam-era Navy veterans, known as "Blue Water" vets, who were exposed to the powerful toxin Agent Orange will be eligible to receive disability and health care benefits they have earned for diseases linked to Agent Orange exposure.
On February 5, Daines received a letter from VA Secretary Bob McDonald refusing to reverse the VA rule, which extended coverage only to Vietnam veterans who served on the ground or inland waters in Vietnam, thereby denying Blue Water Navy veterans access to care and benefits despite their exposure to various toxins during their service.
On February 8, Daines called on the Senate Veterans Affairs Committee to act on their bill to help thousands of "Blue Water" Vietnam veterans.
During the Vietnam War, the U.S. military sprayed approximately 20 million gallons of Agent Orange in Vietnam to remove jungle foliage. This toxic chemical had devastating effects for millions serving in Vietnam. In 1991, Congress passed a law requiring the VA to provide presumptive coverage to Vietnam veterans with illnesses that the Institute of Medicine has directly linked to Agent Orange exposure. However, in 2002 the VA determined that it would only cover Veterans who could prove that they had orders for "boots on the ground" during the Vietnam War. This exclusion affects thousands of sailors who may have still received significant Agent Orange exposure from receiving VA benefits.
###