U.S. SENATE — Senator Steve Daines today recognized the elementary students at Chester-Joplin-Inverness for gathering 2136.5 pounds of nonperishable food for Chester's annual Harvest 4 Hunger Campaign.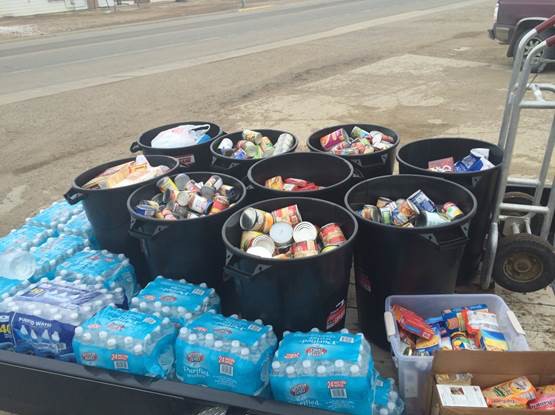 The food the students collected. Click here to download.
Daines' recognition in the Congressional Record is available here.
Through his "Montanan of the Week" initiative, Daines each week will highlight a Montanan by submitting a statement of recognition in the official Congressional Record, the document that reflects the official proceedings of Congress.
Daines welcomes anyone to nominate fellow Montanans for Daines' "Montanan of the Week" program by calling Daines' office at 202-224-2651 or by filling out the contact form on Daines' website: http://www.daines.senate.gov/connect/email-steve
The following is the statement submitted to the Congressional Record:
MONTANAN OF THE WEEK
Mr. DAINES. Mr. President, I rise today to honor the elementary students of Chester-Joplin-Inverness, CJI. These students took part in Chester's annual Harvest 4 Hunger Campaign. All together they gathered 2136.5 pounds of nonperishable food.
CJI is a combination of three towns up on what we call the Highline in Montana. The towns are Chester, Joplin and Inverness. These three town have come together to make one great school to serve the students of the area.
There are 108 elementary students at CJI and they did such a wonderful thing for families in the area. Harvest 4 Hunger is a campaign operated by CHS to gather nonperishable food items and money donations to give to local charities to feed families in need.
Now I hear the students had a little motivation for bringing food in, the winning classes at the end of each week were rewarded with a pizza party. There is no better motivation than a pizza party. I read a lot quotes from the kids and it sounds like they had a great time collecting the food and they were happy to get the chance to help people in need. One student told their teacher Miss Manion, that's what HAWKS do!
It makes me so proud to see young Montanans helping out their communities. These students did such a wonderful thing. Great job and god bless.
###
Contact: Marcie Kinzel, Katie Waldman or Lindsey Singer