U.S. SENATE — Senator Steve Daines today recognized Wyatt Zylawy for his outstanding achievements in his recent Coast Guard training and for his noble commitment to serving our country.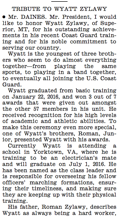 Daines' recognition in the Congressional Record is available here.
Through his "Montanan of the Week" initiative, Daines each week will highlight a Montanan by submitting a statement of recognition in the official Congressional Record, the document that reflects the official proceedings of Congress.
Daines welcomes anyone to nominate fellow Montanans for Daines' "Montanan of the Week" program by calling Daines' office at 202-224-2651 or by filling out the contact form on Daines' website: http://www.daines.senate.gov/connect/email-steve
The following is the statement submitted to the Congressional Record:
MONTANAN OF THE WEEK
MR. DAINES. Mr. PRESIDENT, I would like to honor Wyatt Zylawy, of Superior, Montana, for his outstanding achievements in his recent Coast Guard training and for his noble commitment to serving our country.
Wyatt is the youngest of three brothers, who seem to do almost everything together – from playing the same sports to playing in a band together to eventually all joining the Coast Guard.
Wyatt graduated from basic training on January 22, 2016 and won three out of seven awards that were given out amongst the other 57 members in his unit. He received recognition for his high levels of academic and athletic abilities. To make this ceremony even more special, one of Wyatt's brothers, Roman Jr., presented Wyatt with his awards.
Currently Wyatt is attending "A" School in Yorktown, Virginia, where he is training to be an electrician's mate and will graduate on July 1, 2016. He has been named as the class leader and is responsible for overseeing his fellow officers' marching formations, ensuring their timeliness, and making sure they are keeping up with their physical training.
His father, Roman Zylawy, describes Wyatt as always being a hard worker, highly motivated and taking the initiative with his schoolwork as well as any sports teams he played on. "Whenever he set his mind on something, he did it and he did it well," Mr. Zylawy remarks. "Wyatt has a high ability to excel and to consistently be on top of his game."
Wyatt hopes to be stationed somewhere in the Pacific Northwest after graduation so he will be close to home.
Good luck in all your endeavors Wyatt and I thank you for your current and future service to our state and to our nation. You are a true representation of the brave, honorable and exceptional type of young person that is the future of our state and country and to that end I am immensely grateful.
###