U.S. SENATE — Senator Steve Daines today recognized Shirley Beck and Dale Siegford for contributing to many Montanans' sweet tooth at the Sweet Palace in Philipsburg, MT.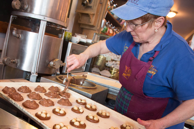 Click here to download photos of Shirley Beck and Dale Siegford at the Sweet Palace.

Daines' recognition in the Congressional Record is available here.
Through his "Montanan of the Week" initiative, Daines each week will highlight a Montanan by submitting a statement of recognition in the official Congressional Record, the document that reflects the official proceedings of Congress.
Daines welcomes anyone to nominate fellow Montanans for Daines' "Montanan of the Week" program by calling Daines' office at 202-224-2651 or by filling out the contact form on Daines' website: http://www.daines.senate.gov/connect/email-steve
The following is the statement submitted to the Congressional Record:
MONTANAN OF THE WEEK
Mr. DAINES. Mr. President, I rise today to recognize the owners of a great candy shop in the eastern part of Montana. Shirley Beck and Dale Siegford have own and operated The Sweet Palace located in Philipsburg, MT since 1998 contributing to many Montanans' sweet tooth.
Shirley, a wife of a rancher, mother of three and a former special-education teacher, started selling Montana jewelry at the Gem Mountain Shop in 1988. Shirley had a great aptitude for assisting the customers in their search for the perfect piece of sapphire jewelry.
Dale a Missoula, MT native, began digging for Montana sapphires on Gem Mountain in 1987. Dale became an expert in the art of heat treatment, enhancing the colors of the Montana sapphires, especially pink and yellow.
Together at Gem Mountain, Dale they became a great team and moved on to opening their own shop the Sapphire Gallery, in 1992. The Sapphire Gallery became a flourishing business and inspired the duo to open the Sweet Palace right next door the start of a great business partnership prompting Shirley and Dale to open another store.
It's impressive that two people can go from making jewelry to making candy in our great state. Philipsburg is a beautiful town near the Sapphire Mountains and through their businesses they make it even greater.
Thank you, Shirley and Dale, for helping keep Montana alive.
###