U.S. SENATE —Senator Steve Daines opened the first ever Congressional office in Sidney, Montana.
Yesterday, Daines held a grand opening of his new office. Daines' office is located at 609 S. Central Ave. Suite #4 (Central Plaza Building), Sidney, MT, 59270.
"I'm excited to announce the opening of our Sidney, Montana office," Daines stated. "This office will help us better serve all of eastern Montana and fight everyday on behalf of Montanans. If you ever have a concern with a federal agency or need help getting the benefits you deserve our office is here to help."
Daines' office will be staffed by Nate Williams. Williams grew up in Sidney and graduated from Sidney High School in 2004. Following his graduation, he enlisted in the United States Air Force and was stationed at McChord Air Force Base. After six years and three overseas deployments, he enrolled at the University of Montana and graduated with degrees in Economics, Political Science, and a minor in Arabic.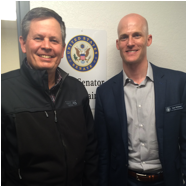 Daines with Nate Williams at the Sidney office opening.
Click here to download photos from Daines' office opening.
Among the services Daines' offices provide Montanans' are:
For Students: Daines' office can offer internships in his Senate offices, nominate Montana students to serve as Senate pages and nominate Montana's high school students to the nation's military academies.
Help With A Federal Agency: Sometimes it can be challenging to navigate a federal agency, like the Department of Veterans Affairs or the Social Security office. While the office cannot guarantee you a favorable outcome, the office will do the best they can to help Montanans receive a fair and deserved response to their problem.
For Veterans: Daines is dedicated to ensuring that veterans receive the care and benefits that they fought for and greatly deserve. For additional information and resources available for veterans, please click here.
Grants and Resources: Daines and his staff are eager to help eligible Montanans find information on federal grants, loans, and nonfinancial assistance, as well as private funding. If a Montana organization has prepared a grant proposal and would like to request a letter of support from Daines, please visit his website here for more information.
Visiting DC: Daines' office can help Montanans make arrangements for some of the more popular federal attractions in our nation's capital.
###