U.S. SENATE — This week, Senator Steve Daines traveled to Alaska to participate in a Senate Energy and Natural Resources field hearing to examine opportunities for innovation in America's energy industry.
Daines was joined by Senators Lisa Murkowski (R-AK), John Barrasso (R-WY), Maria Cantwell (D-WA), Shelley Moore Capito (R-WV) and Angus King (I-ME), in addition to U.S. Secretary of Energy Ernest Moniz, who testified at the hearing.
Daines with Murkowski as they prepare to head out from Anchorage to Bethel, Alaska.
Click here to watch.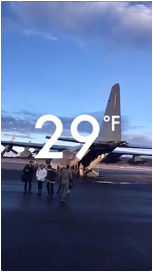 Daines, Moniz and fellow senators traveled to Bethel, Alaska where the field hearing would be held.
Click here to watch.
Daines then traveled to Oscarville, Alaska to engage in a roundtable discussion with community leaders and meet with students at the Oscarville school.
Click here to watch.
Daines wrapped up his day at the Senate Energy and Natural Resource field hearing in Bethel. During the hearing, Daines noted the importance of securing American energy independence and emphasized the critical role innovation holds in America's energy future. He underscored the need for an all-of-the-above energy strategy to help create good paying jobs and protect rural Americans and Native Americans from rising energy prices.
"Montana's electricity rates are more affordable than many places in the country thanks to coal and hydropower, but when you have a sparse population, keeping prices low are challenging," Daines stated. "These challenges are felt the most on our Indian reservations which face some of the highest unemployment in our state. Montana's Indian Reservations have some of the richest coal, oil, and gas reserves in the lower 48 states, vast wind potential, and hydropower capacity, and biomass. We have it all in Montana—we just need to innovate to make it happen. With over 50 percent unemployed on these reservations, energy development is not only a ticket to more affordable energy bills, but also good-paying jobs."
Archived audio and witness testimony from Monday's hearing is available on the Senate Energy and Natural Resources Committee website.
Click here to download high resolution photos of Daines' time in Alaska.
Click here to download Daines' full Snapchat story.
###