WASHINGTON, D.C. — Senator Steve Daines today honored A.T. "Rusty" Stafne, Chairman of the Fort Peck Assiniboine and Sioux Tribes. Chairman Stafne has completed his term as Chairman and will not be seeking re-election.
Daines honored Chairman Stafne by submitting a statement of recognition in the official Congressional Record, the document that reflects the official proceedings of Congress.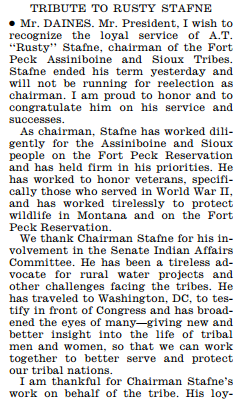 Daines' recognition in the Congressional Record is available here.
The following is the statement submitted to the Congressional Record:
IN RECOGNITION OF CHAIRMAN RUSTY STAFNE
MR. DAINES. Mr. President, I rise in recognition of the loyal service of A.T. "Rusty" Stafne, Chairman of the Fort Peck Assiniboine and Sioux Tribes. Stafne ended his term yesterday and will not be running for re-election as Chairman. I am proud to honor to congratulate him on his service and successes.
As Chairman, Stafne has worked diligently for the Assiniboine and Sioux people on the Fort Peck Reservation and has held firm in his priorities. He has worked to honor veterans, specifically those who served in World War II, and has worked tirelessly to protect wildlife in Montana and on the Fort Peck Reservation.
We thank Chairman Stafne for his involvement in the Senate Indian Affairs Committee. He has been a tireless advocate for rural water projects and other challenges facing the tribes. He has traveled to Washington, D.C. to testify in front of Congress and has broadened the eyes of many – giving new and better insight into the life of tribal men and women, so that we can work together to better serve and protect our tribal nations.
I am thankful for Chairman Stafne's work on behalf of the tribe. His loyalty, priorities, and hard work set an amazing example to the rest of Montana, and our great nation as a whole.
###